Summary: The purpose of this article is to define and differentiate Roles, Responsibilities and Portfolios in the Vantaca system.
Nearly everything in Vantaca is based in some ways on the Roles, Responsibilities, and Portfolios of a User. Understanding clearly how these function and interact with each other takes time, but master of these key concepts is necessary to truly master Vantaca Administration
Roles
Roles in Vantaca set the user's permissions and access. The Role defines which pages users can access, which functions they can perform and which Action Items they are assigned to. Action Item steps are assigned to specific Roles.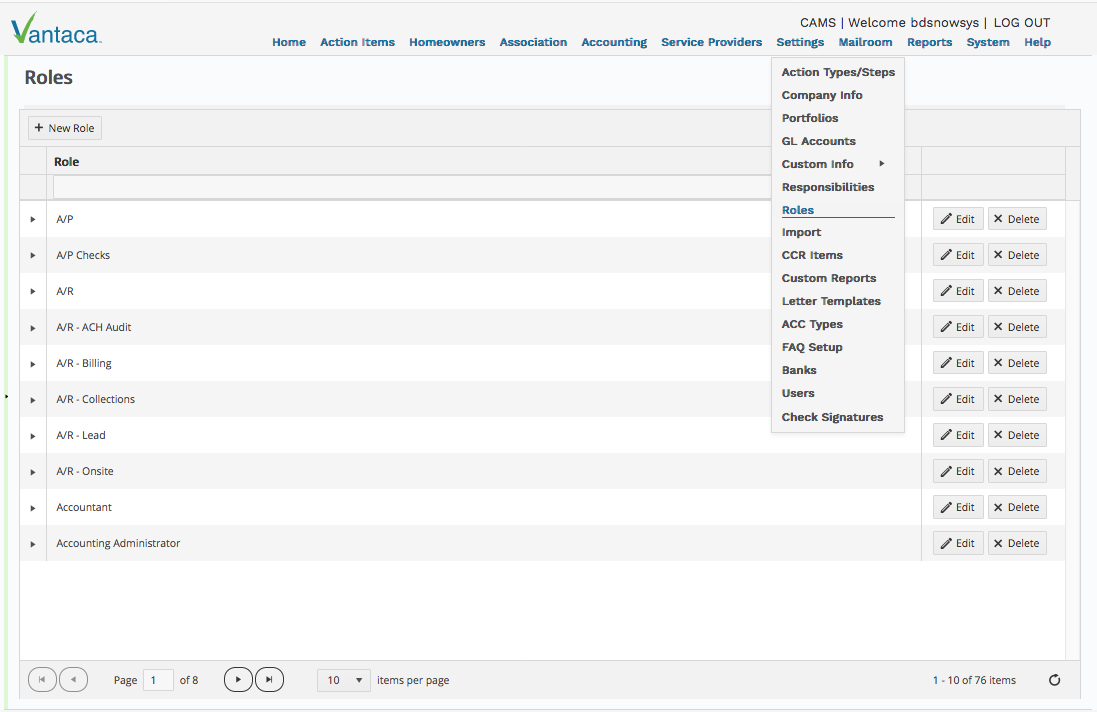 Portfolios
Portfolios are individual Associations or groups of Associations as defined on the Settings -> Portfolios page.
Every Portfolio belongs to a Portfolio Type. Every Portfolio Type has to have one of the following three Requirements:
Not Required
An association does not need to have a portfolio of this type selected
An association may belong to as many portfolios of this type as necessary
Required – Multi Allowed
An association must have at least one portfolio of this type.
An association may have as many portfolios of this type as necessary.
Required – One Per Assoc.
An association must have a portfolio of this type.
An association can only have one portfolio of this Portfolio Type; the association may also belong to portfolios of other types
If an association is placed into a Portfolio Type with this requirement, it will automatically be removed from any other Portfolios of the same type
*To Learn more about Portfolio Types, click Portfolio and Portfolio Types.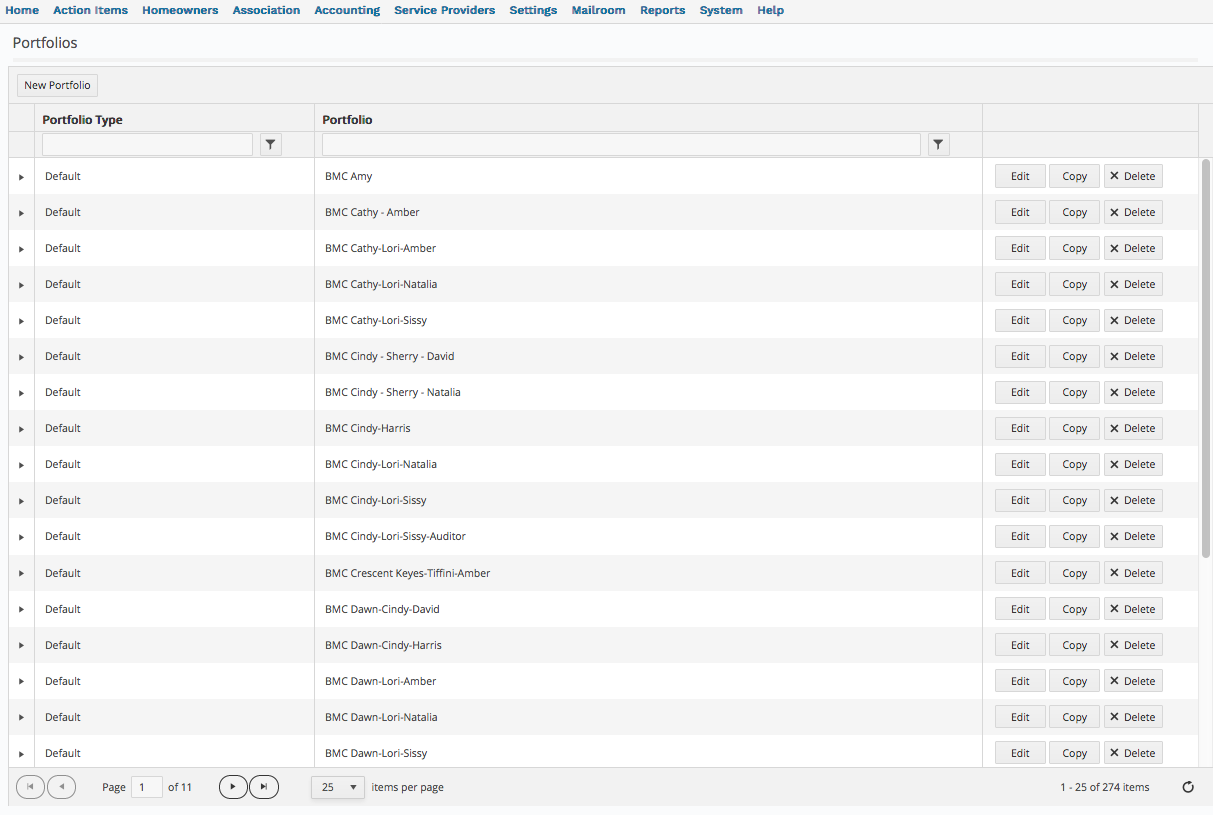 Responsibilities
Responsibilities are the assignment of a Portfolio to a specific Role. This is where Vantaca defines which Roles have access and are responsible for working Action Items for which specific Portfolios or Associations. Specific users are then assigned to each Responsibility. The responsibility for Action Items are assigned to specific Roles, so the Responsibilities allow us to give different users the same Roles but for different Associations or Portfolios.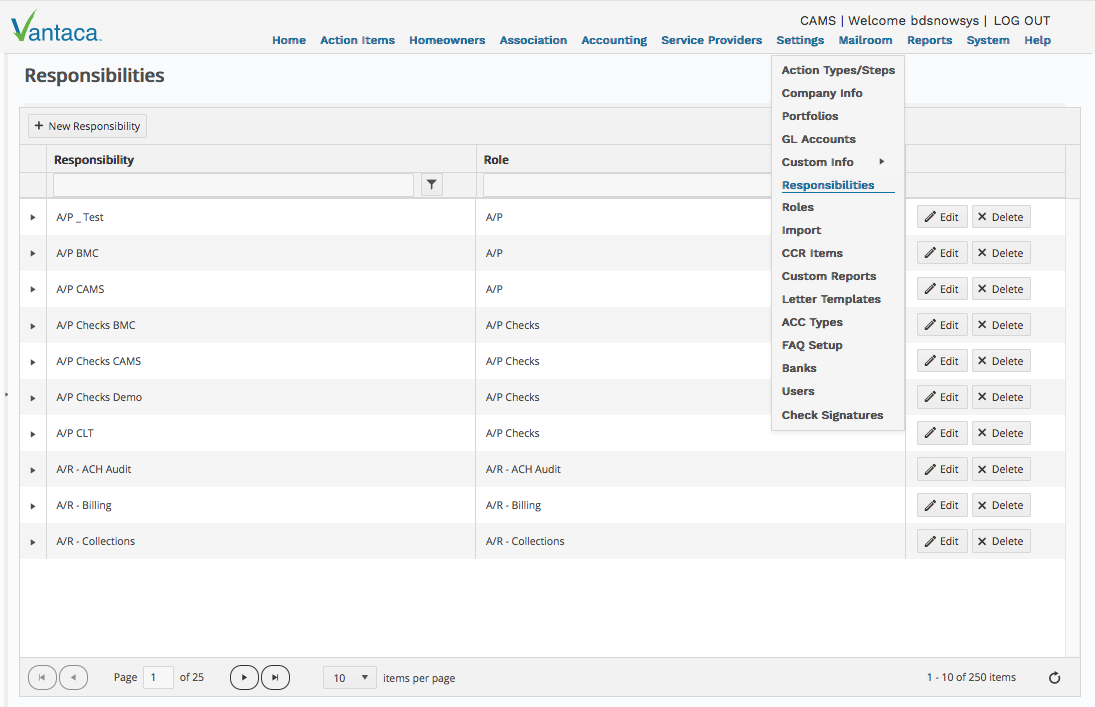 Note: When establishing Responsibilities, there is the potential for overlap in Role Securities. In other words, when a User is set up with a Role allowing a permission in one association (Manager of community A), if they are assigned a "View Only" Responsibility in another association with another Role (View Only in community B), they will be able to exercise the same permissions in both associations (community A & B).
This may include permissions such as Edit Association Additional Info, Add or Edit Board Member configurations, Budget Approval, etc. However, that User will not be assigned any items in their My Action Items for community B that they would have in community A. A user would have to actually seek out these items to change.