The Association > Association List page contains a searchable list of all the Associations available to users based on their Responsibilities and Portfolios.

The initial screen will have seven (7) columns and the contents are ordered by Association Name. Each of these columns can be filtered and sorted to display the information in the way that works best for you.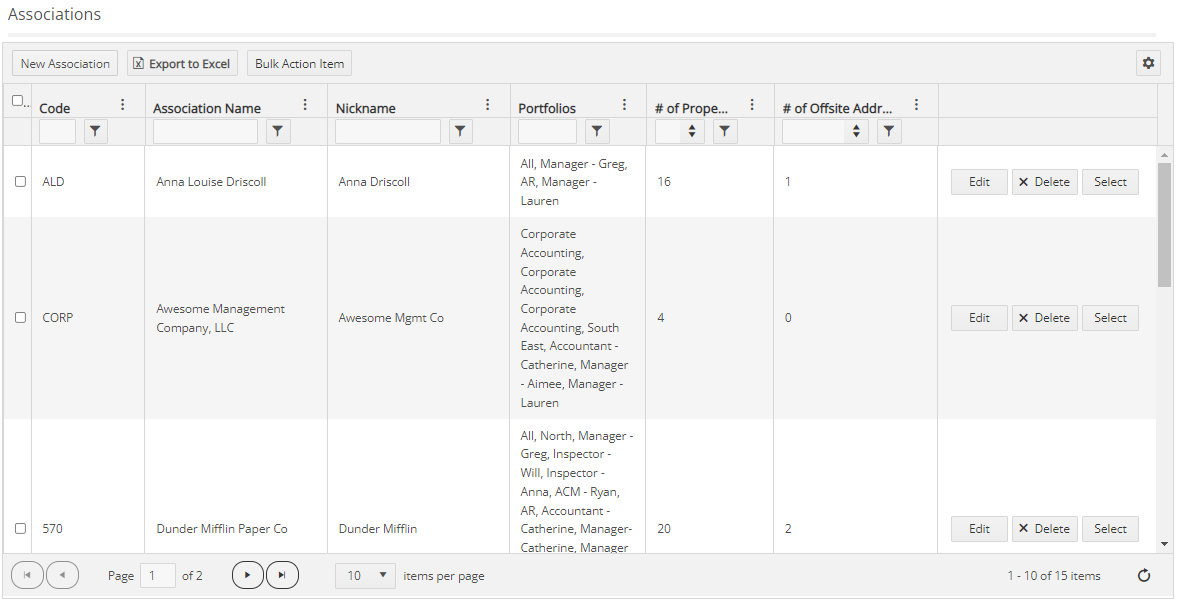 Every column header has three dots

on the right side. Clicking these provides an alternate way of sorting or using a filter. You can also select all columns that you want to see, or remove columns you don't need.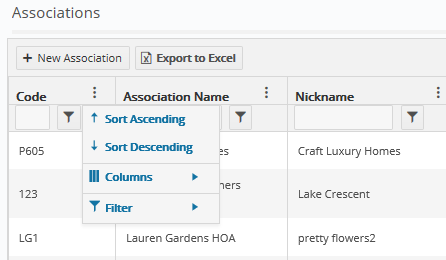 Sorting on Columns
Sorting can easily be changed by clicking on a column header. The first time you click, all data will be sorted by that column from 0 – 9 and then A – Z. Click again, the order will be Z – A and then 9 – 0. Click a third time and the sort will be undone.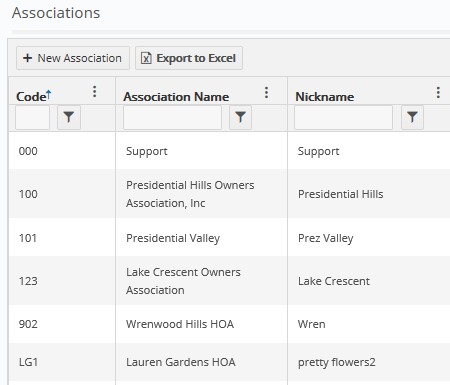 Clicking once on "Code" sorted all data on that column. Notice the small blue arrow next to "Code" to indicate a sort is placed
Using Filters
Every column in the Association List screen has a text box between the header and the data. This is where you can filter the data. If you type in something in one of these boxes, the default filter action will be activated. Note: In this screen, generally, Text columns will filter on texts containing the character string you typed. Number columns will filter on "Is greater than or equal to" the number you entered.
If you want to filter in a different way, type your criteria in the box but instead of hitting Enter, click on the funnel symbol to the right of the box. This will give a list of filtering options.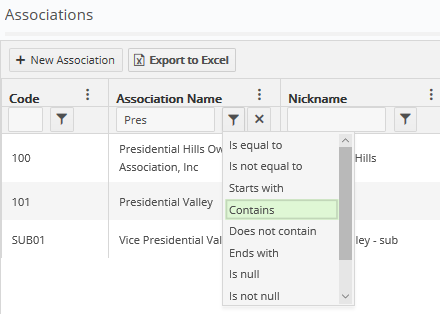 Clicking on the funnel symbol opens a list of different filtering options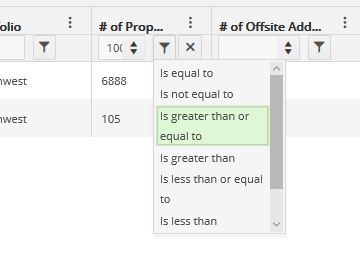 It depends on the column type what kind of filtering options are available
Adding/Removing Columns
Click on the three dots on any column header and navigate to "Columns". Here you can select all the columns that you do and unselect the ones you do not want to see.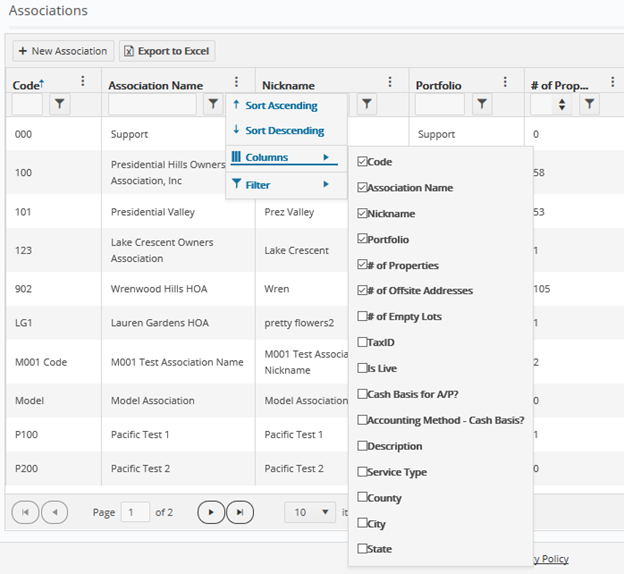 Export to Excel
At any point in this screen, it is possible to export all the data into Excel by clicking on the button "Export to Excel" at the top of the screen.

The export will contain all the data that is currently available within the applied filters, columns, and sorts. Note: ONLY items that are currently filtered/sorted will be exported.

Data is filtered in column 2, sorted in column 4, and the displayed columns are changed

After clicking "Export to Excel" in the previous screenshot, Excel will open with this data
Note: Downloads may be blocked by your browser's settings, so make sure you allow popups for Vantaca.
New Association
Clicking the New Association button will open a pop-up window, allowing users to enter the information needed to create a new Association. See the articles How to Create a New Association and New Association Checklist for information on the process of creating new Associations in Vantaca.

Bulk Action Item
The Bulk Action Item button allows users to create Association-Level Action Items for multiple Associations at the same time. Click the Checkbox next to the Associations of your choice and click Bulk Action Item to open the Action Item creation box.

Save Grid Settings
Anytime you see the Gear icon in the top-right corner of a page, that means that you can Save Grid Settings.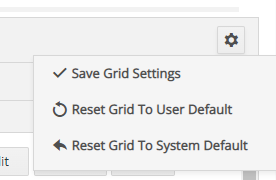 Save Grid Settings - Will save the current Sorting, Filtering, and Columns on your page for the individual user. The next time you open this same page it will display using the same criteria. This does not affect other users in your database.
Note: This will save ANY sorting and filtering. For example, if you are currently searching for "Abe Lincoln" in a field and click Save Grid Settings, you will now ALWAYS be searching for "Abe Lincoln" everytime you access this page.
Reset Grid to User Default - Will reset the page to your previously saved Grid Settings. Helpful if you have done additional sorting and filtering and simply wish to "refresh" the page back to your preferred settings.
Reset Grid to System Default - Will reset the page to the system default, clearing your previously saved grid settings. You will need to Save Grid Settings again if you wish to have a new "default". This is also useful if you open a page that you believe should have data but does not. There may be unnoticed or "hidden" searches or filters on the screen that will be cleared out.
"Edit", "Delete", "Select" and "New Association"
If you have the right permissions, every record will have three buttons on the right-hand side of the screen: Edit, Delete, and/or Select.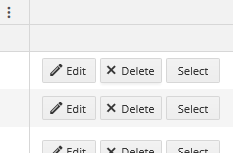 Edit will create a popup where you can update the basic information of that association. This is the same information that is entered when creating a New Association. See the article How to Create a New Association for details on each of these fields.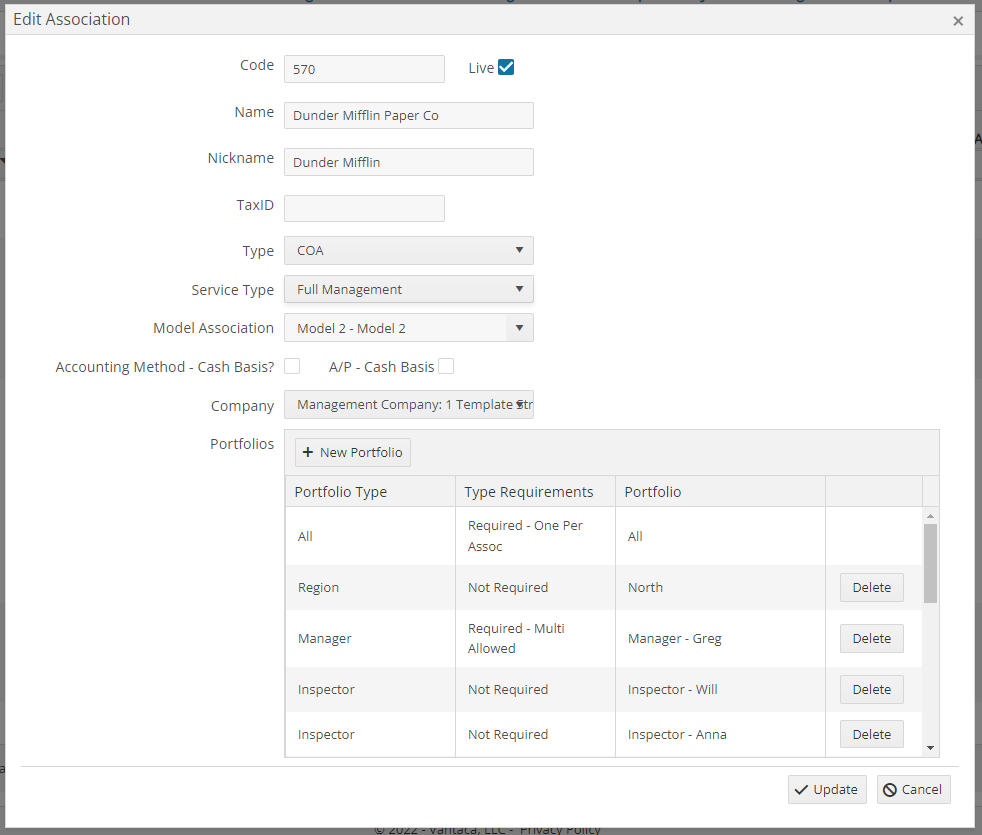 Delete will delete the entire association. This should be handled with great care – the delete cannot be undone. For this reason, a popup appears to confirm before the association is actually deleted.
Select selects the association and immediately directs you to the Association > Action Items page for that association. Other pages in the Association menu will now default to this Association until another is selected.