Summary: This article and tutorial video walks users through creating and managing contacts for Service Providers in Vantaca.
Vantaca allows multiple contacts to be listed under an individual service provider record so that you can easily stay in contact with the appropriate person within that service provider's organization. This is especially helpful if you want to record a different contact for the accounting department than the administration or customer service department. Or perhaps, each association has their own designated point of contact with your service provider; Vantaca's Provider Contacts can help you manage those contacts and keep them all straight.
To setup and manage your service provider contacts, hover over the Service Providers menu and select Provider Contacts. The header of the Provider Contacts page will display primary contact information, insurance and payment information for the service provider you have selected, with clickable links to other service provider pages. To change the service provider, click on the service provider, search and select.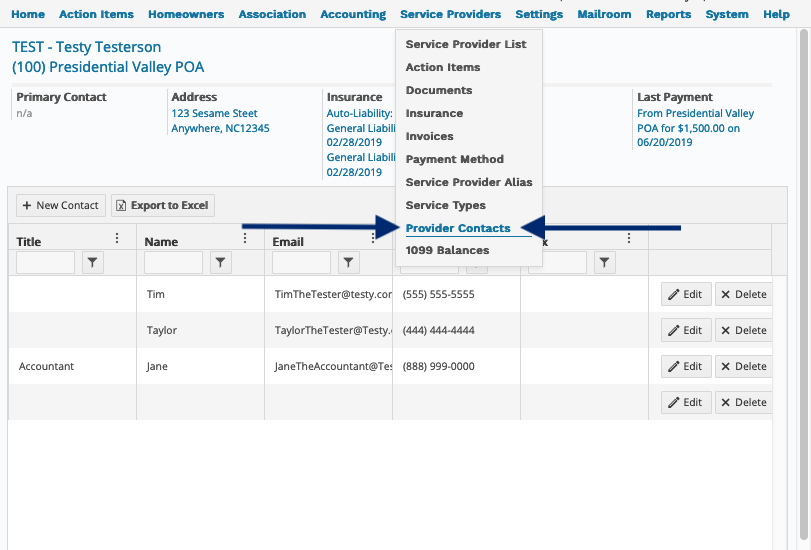 From here, we can create a new service provider contact by clicking + New Contact. Add any contact information that you wish to maintain for the service provider, including name, email address and phone number. The allow login access flag and password field allows you to grant your service provider access to the action items assigned to them in Vantaca, so please contact your system administrators to confirm that the securities for Service Providers have been set accordingly before granting access.
Selecting the "Is Primary" checkbox will flag the contact information you are entering as the Primary contact information for this service provider, which will override the existing primary contact information for your provider. Be sure to click update to save your changes.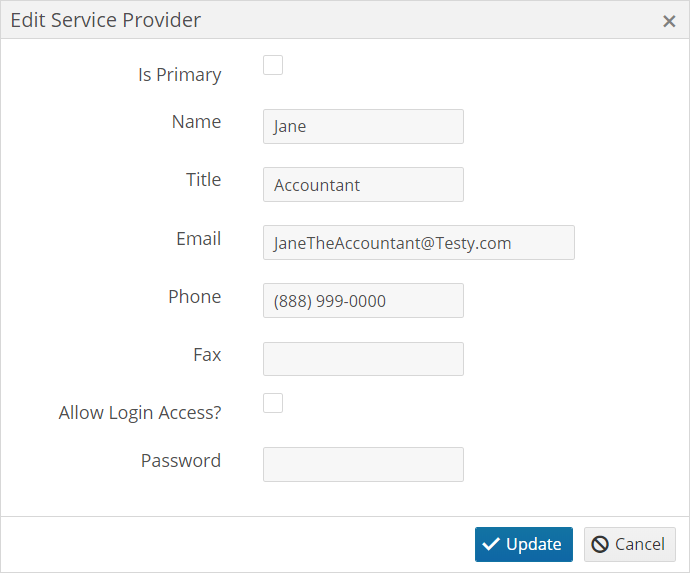 Upon updating service provider contact information, you can refresh the page to see your changes by clicking on the Primary contact link.
Additional Reference