Objective: Understand basic navigation of the Service Providers > Action Items page.
To access the Service Provider Action Items page, navigate to the Service Providers > Action Items. Displayed here are the action items that are currently open for the selected service provider within the selected association. You can switch the selected association to All Associations to view the action items for a provider within all of the associations they provide services for. On this screen, you must select one provider (not an option to select "All Providers"). Select the provider by clicking the provider link ("Select a Provider" of "Provider Name") icon directly above the association selection. If you have previously selected a provider on another screen, then a provider will already be selected and you can click on their name to select a different provider.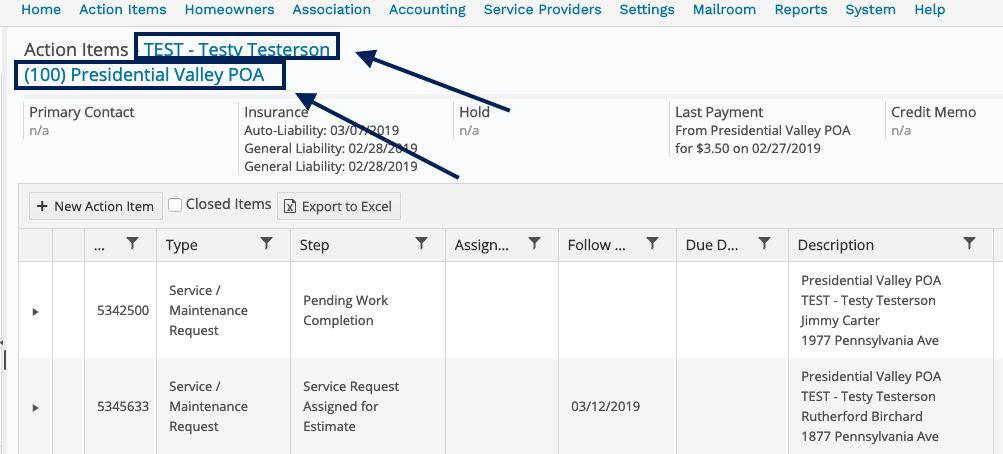 Once you have the desired provider and association selected all open action items for the selected provider will be displayed, whether it would be invoices, work orders, or any other type of action item where your provider is selected/assigned on the item itself. Clicking the Closed Items check box displays the closed items for that provider. You can drill into the action items listed to view the messages or other relevant information. You can also create a new action item from this page for the provider by clicking the + New Action Item button. Export the displayed data to Excel by clicking the Export to Excel button at the top of the action item list.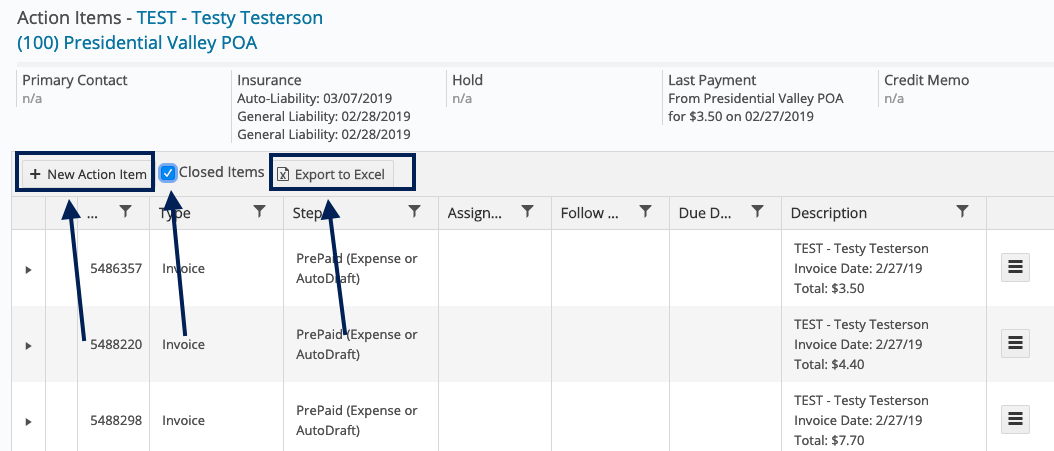 Directly above those buttons and below the association/service provider selection is relevant information for the selected service provider. The Primary Contact field displays the primary contact listed for that provider, including name, phone number, and email. The Insurance field displays any active insurance policies open for that vendor as well as an expiration date. The Hold field will display information regarding a hold status for the provider along with the reason for that hold in red font. The Last Payment field shows the last payment made to that vendor, where it was paid from, amount, and date. The Credit Memo field displays the status of any credit memos for the selected provider.