Summary: This article provides instructions for mimicking a Homeowner Portal.
A Homeowner Portal can be "mimicked" in Vantaca, allowing users to see exactly what a homeowner sees when they sign in to their Homeowner Portal.
To begin, navigate to the Homeowners > Logins screen. If you do not have this menu item, contact your System Administrator to adjust permissions settings.
Note for System Administrators: This permission is attached to the Role security Support > Portal Login Mimic.
It is important to note that only homeowners who have had portal logins generated are able to be mimicked.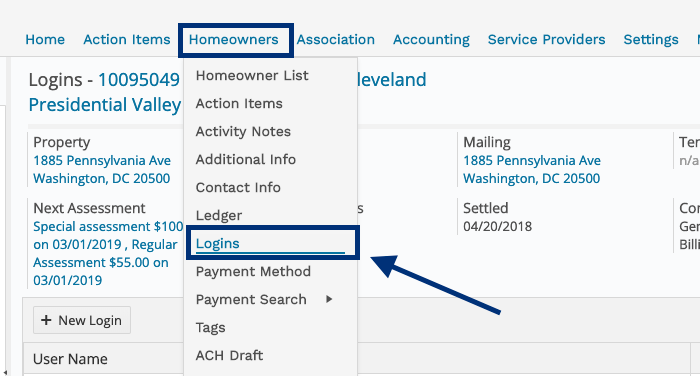 If a homeowner was previously selected and you need to select a different homeowner, click the homeowner account name to navigate back to the login search menu.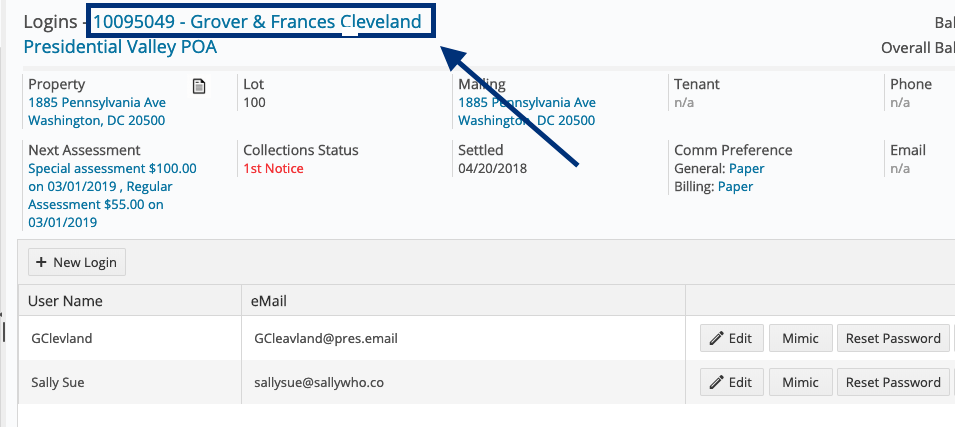 From here, an association may be selected from the association dropdown menu, and a homeowner can be selected from the list using the Select button.

Once you have selected the desired homeowner, click Mimic button to "Mimic" the homeowner's portal.

Using this feature will actually log you into a live version of the Homeowner's Portal. Therefore, all information you see is identical to what the homeowner will see, and any actions taken in the portal actually occur on the homeowner's account.
FAQ:
Why am I unable to mimic an owner?
If you are unable to mimic an owner from an Association, be sure that the Association is marked "Live" for the portal to be accessible. Once marked live, you'll be able to use the mimic feature!
Why am I seeing incorrect information on Homeowner Portals?
If you are seeing incorrect information on a homeowner's portal when mimicking the homeowner, we recommend clearing your cache and cookies.
For information regarding the use and navigation of the Homeowner Portal please reference our article: The Homeowner Portal.