Summary: How to best utilize the call center for searching an owner account and recording call notes.
The Call Center tab is located in the left panel of the Vantaca screen. Please note that the default setting for the left panel is the Action Center. Open the Call Center by selecting the Call Center header.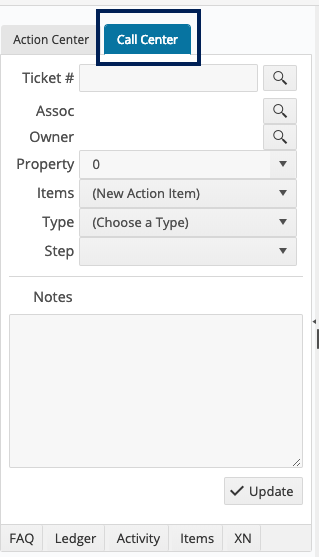 The Call Center is designed to provide increased efficiency for three functions:
1. To quickly find and select an action item by searching by the XN number.
2. To navigate quickly to an owner's account.
3. To record homeowner calls for tracking/reporting purposes.
All emails sent from Vantaca contain an XN Number (Action Item or Ticket Number) in the subject line. The letters X and N do not appear next to each other in the English language making it a unique identifier for replies to the email to be routed back to the action item it was sent from. Think of this as grouping your emails by conversations. Homeowners and/or service providers have this XN number as a reference on all emails, making it easy to search for the exact correspondence they are referencing.
By clicking on the magnifying glass next to Owner you can easily search for an owner account in the pop-up grid. Once you select the owner, you are able to click on their name to be directed to their account.

Once an owner is selected, choose A Homeowner Call next to Type. Once selected, enter your notes in the Notes section. If the owner is calling and has requests that require follow-up, create the applicable action item on the right-hand side of the owner's account while you are simultaneously recording your call notes. The A Homeowner Call action item closes once you click Update.
To search or report on call notes, navigate to Action Items > All Action Items. Search for "A Homeowner Call" in the Type field and check the box for Include Closed. Add the columns Created Time and Description to see the calls at a glance and sort by date. This can be exported to Excel if desired.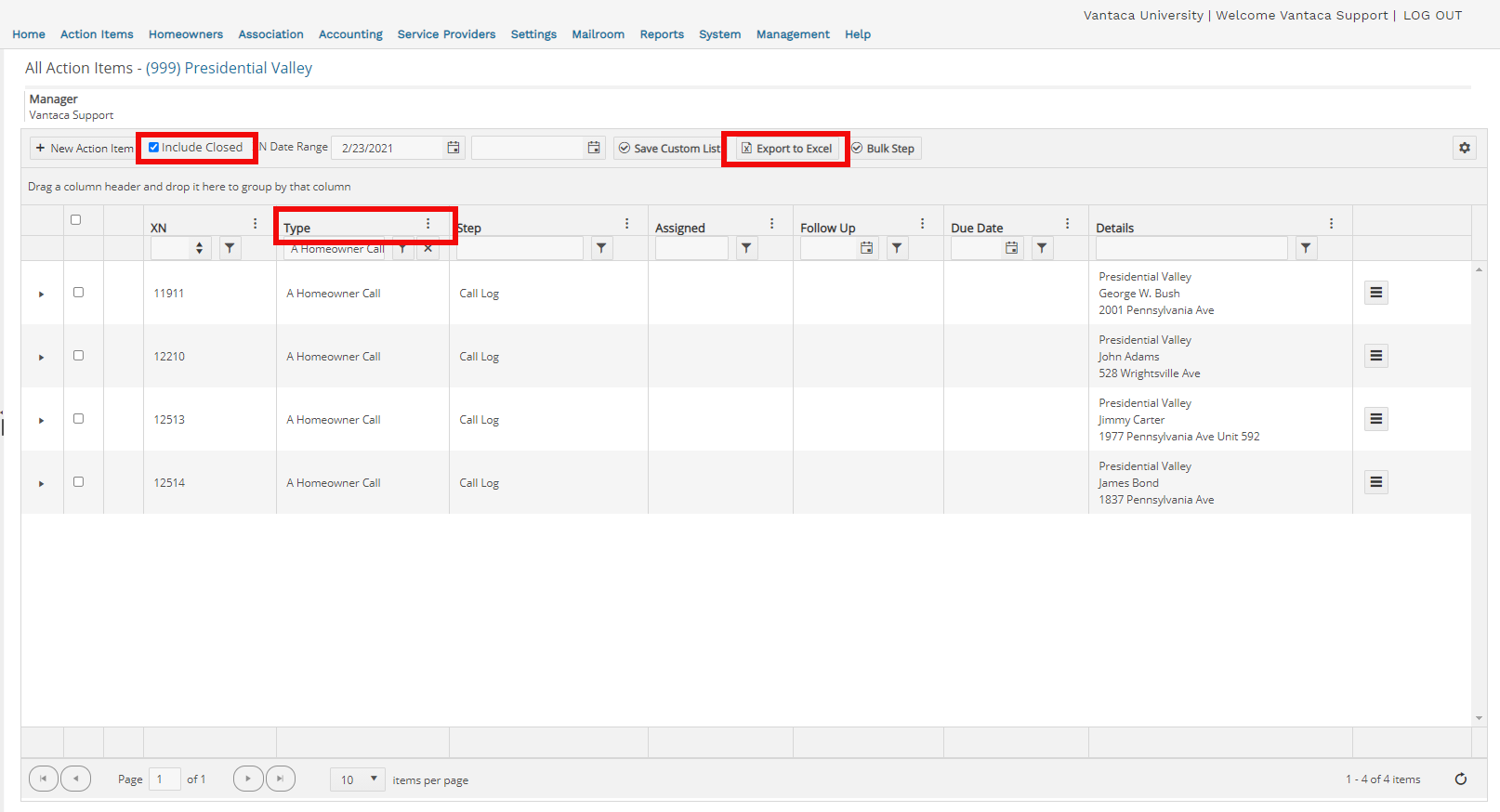 Note: The Call Center should only be used to create A Homeowner Call Action Item. Other Action Items should be created from the My Action Items/All Action Items page by selecting +New Action Item and selecting the appropriate Action Type.