Summary: General overview on how to create the "Generate Statements (Billing Preference)" action item.
To generate a statement, navigate to Action Items > My Action Items and select + New Action Item.
Note: This can be performed from any screen in which new action items can be generated.
Next, select the Action Type: Generate Statements (Billing Preference) from the Action Type dropdown menu. This action item will send statements to homeowner based on billing communication preference.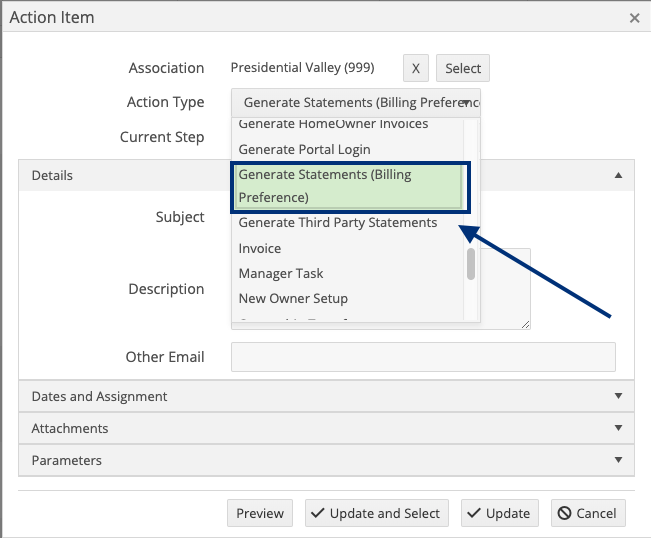 Please see below for the action item fields:
Details: This is not a required field, but can be used if the statement is desired to be sent by email. The subject as the email subject line, the description as the body of the email, and the other email address if desired can be completed here.
Dates and Assignment: This section is also not required to run the Generate Statements (Billing Preference) action item, but can be included to specify dates for the action item. Remember that follow-up date and due date are for the action item, not for the statement.
Attachments: This field can be left blank, as attachments are not needed for this action item. However, attachments can be added if additional items should be sent along with the statements.
Parameters: This section is used to specify statement dates, and what information is included in the statement. This field is the most important to complete for this action item. The parameters pertain to the information on the statement itself, while the Details, Dates and Assignments, and Attachments correspond to the action item.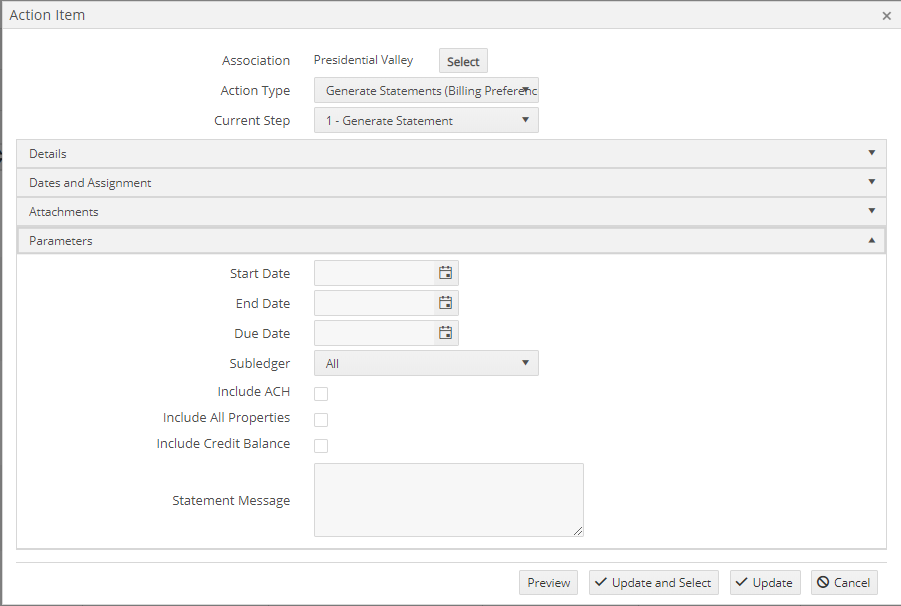 Start Date: This parameter indicates the start date of the statement.
End Date: This parameter indicates the end date of the statement.

NOTE: If you are generating Statements for an upcoming year (ie. running 2022 statements in the 2021 Fiscal Year), you MUST include the end date for statements to generate.

Due Date: If a due date is entered, this will replace the run date of the statement.
Subledger: If using Subledgers, you can determine which subledgers to include in these Statements.
Include ACH: Checking this box will add homeowners on ACH to the list to send statements. If this is not selected, homeowners on ACH will not receive this.
Include All Properties: Checking Include All Properties box will send any homeowner with multiple properties who is merged in Vantaca a combined statement.
Include Credit Balance: If a homeowner has a large enough credit balance to cover your next assessment, this will not be included in the statement unless the "Include Credit Balance" is checked.
Statement message: Entering information in this field will override the default message. To review the default message navigate to Settings > Company Info.
Once all desired information has been entered, click Update, an attachment will be generated. It may take several moments for this to occur. When complete, the generated statements will display as an attachment. Once the generation is completed, Review Statement will be displayed. This means the statement is attached and has been sent to AR. You will also be alerted to how many generated and, if not, why. In the example below:
Generations Completed.
Statements were generated for 55 of 72 owners.
15 Owners were skipped due to ACH.
2 Additional owners were skipped due to zero or credit balance.

Next, the AR team will step this action item to Send Statements. This will email the statements to those whose communication preference is set to "email" and send statements for homeowners with paper billing preferences to the print queue. Once statements have been sent, the action item will then automatically step to: Completed.