The New Bank Account Request screen is used in Vantaca to request a new bank account from PPB or AAB, similar to how a request is made from the bank itself. Navigate to Association > Bank Accounts and you will see the New Alliance Association Bank Account Request and New Pacific Premier Bank Account Request button. This process will work whether the association is live or not.
Note: The required fields may differ between banks as well as the available fields in on all three sections of the form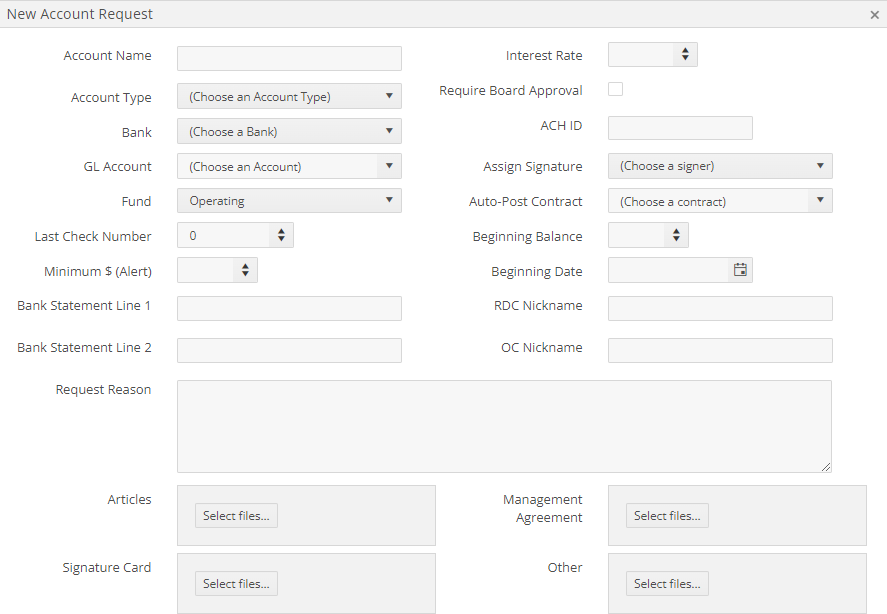 Account Name: This name will appear on your bank reconciliation report. It's recommended that this matches or in some way connects with your GL account name.
Account Type: This is for your reference in the grid view. Only one account may be set up as an "Operating" account and this will be the Association's primary operating account. Associations with multiple operating accounts can set those accounts as "Other DDA".
Bank: Choose the bank from the drop-down list. This dictates your routing number and how the accounts are grouped in your bank reconciliation screen. Banks can be managed on the Settings > Bank screen if you need to add or remove a bank.
GL Account: This is the GL account associated with this bank account.
Fund: This will interact with your association setting to determine which fund future activity will be grouped into on your balance sheet and income statement.
Last Check Number: Used to avoid using duplicate check numbers.
Minimum $ (Alert): This will create the threshold for the account to ensure that payments and transfers will not cause an overdraft on the account. This threshold is also used to trigger the Low Balance Alert action item.
Bank Statement Line 1/2: Is similar to the "Account Titling" Fields on their own Request Forms. The Bank Statement Line (Or Bank Statement Title) is typically the account use: "Operating", "Reserve", "Petty Cash", "Special Assessment", etc.
Interest Rate: This is a data reference. This can also be included in your Account Name if you would like this information to be more visible.
Require Board Approval: Checking this box requires each payment from this account to be approved by the board. This is used in combination with your association setting to determine which payments require board approval and when.
ACH ID: Depending on your integrated bank, ACH ID is sometimes required. During on-boarding, you will learn if this is necessary for your accounts. Typically this field will be blank.
Assign Signature: This allows you to override the default check signature. Images will need to be uploaded on the Settings > Check Signature screen before selecting them in the bank account screen.
Auto-Post Contract: This will apply the selected Association Service Contract to all expense transactions for this bank account. This option is generally used for accounts such as Debit Card accounts so that transactions received via the bank integration can be auto-posted and reconciled. More information on Association Contracts can be found by clicking HERE.
Beginning Balance: Used for accounts with an existing balance being transitioned into Vantaca. See Bank Account Beginning Balances for more information on beginning balances.
Beginning Date: This will dictate how far information is available on this account and how far back ending balance can be submitted in the reconciliation.
RDC/OC Nickname: This is usually a common name or company code that is used internally. For example "Presidential Valley" might be PV followed by OP for operating and MM or R for reserve account (PV-OP / PV – MM). Many times the RDC and Online names are the same.
Request Reason: This field is used for any additional information. The information is used internally for your company to help keep track of your requests.
AAB Sections
PPB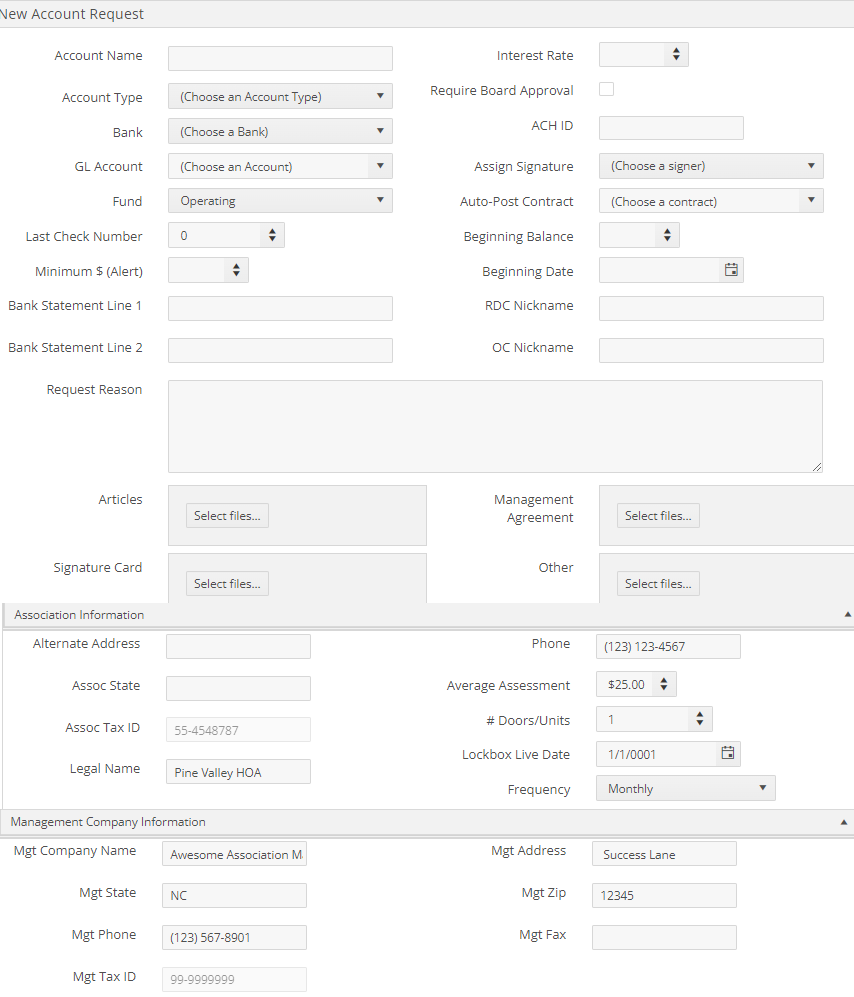 ---
Example
For a frame of reference, here is the New Account Request form from PPB. You will see that there are several lines on this form regarding the HOA and the Management company. These fields pull directly from Vantaca from fields set up previously. There is no need to manually enter these anywhere when setting up that bank account through Vantaca.
*NOTE* As part of the supplemental information that Vantaca sends, you will need to enter a physical address for the association. You can enter this address through the Association > Addresses and entering a Physical Address. This must be done before submitting the New Bank Account Request.