Summary: Subledgers allow for money to be categorized separately on homeowner ledgers, which will show in separate ledgers on the owner's account as well as their statements.
To create a subledger, first, navigate to the System>Subledgers screen.
Click +New Subledger.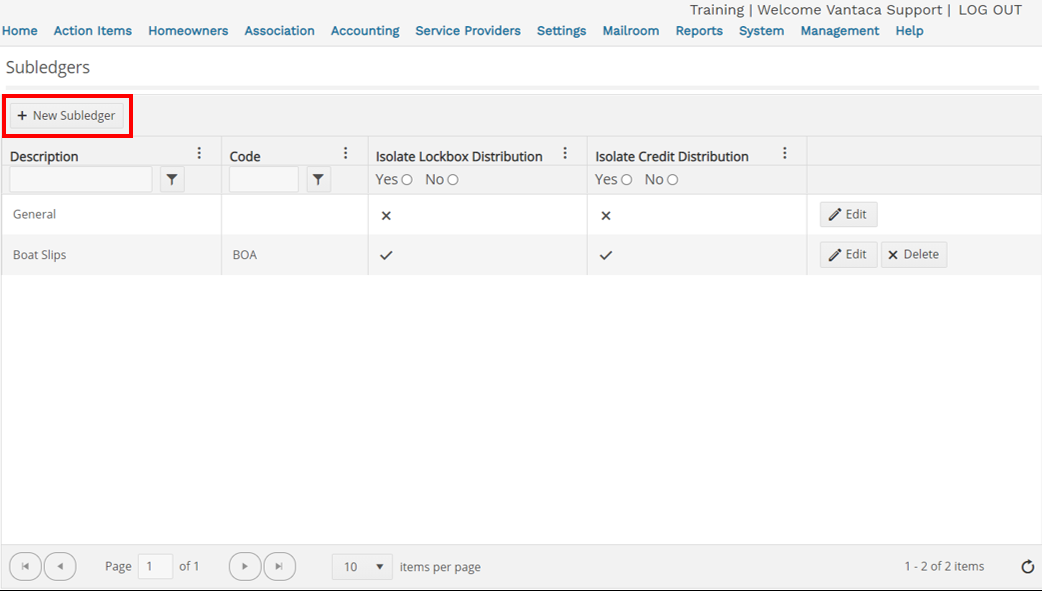 A window, like the one shown below, will open up for you to fill out the subledger information.​
​
Description - This is the name of the subledger.
Code - The code must consist of only letters, no numbers and can be 1-3 characters. It will be used to identify the subledger.
Isolate Lockbox Distribution - When checked, money from the lockbox that has been allocated to the subledger will remain on the subledger and not distributed to other ledgers.
Isolate Credit Distribution - After the Isolate Lockbox Distribution process runs, the system will look to see if there is any credit on the subledger. If this box is checked, any credit on the subledger will not be redistributed. If it is not checked, credits will be redistributed in accordance with the Payment Order settings.
Click Update to save your Subledger.
Optional - You may want to create a Fund that matches the subledger. This can help in further categorizing the monies being designated for these subledgers. To create a fund, navigate to Association>Funds and click +New Fund.
Label it with a name that will help others to understand how the money is being grouped and choose whether it's in the Operating or Reserve group. Adding a Default Bank Account isn't required, as the fund will default to the association's Operating account.

After creating the subledger, you can set up an assessment/charge that will be billed to the subledger or edit an existing assessment to be billed to the subledger as shown in the screenshot below. For help setting up a new assessment, visit the How to Set Up a New Charge or Assessment article.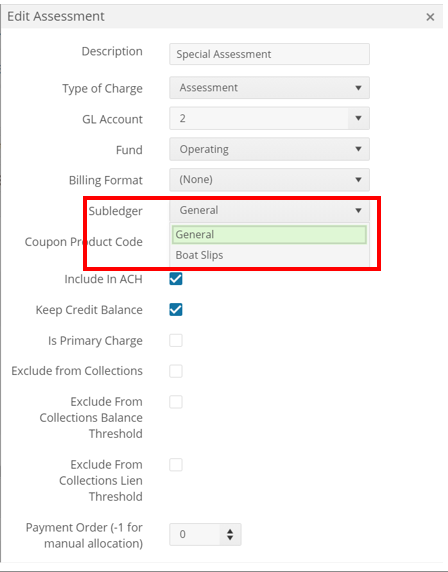 Note - Subledgers are global, you cannot make an association specific subledger. However, subledgers will only show on accounts that have a charge on an assessment that is linked to a ledger other than the General ledger. ​
When Generating Statements, in the parameters section you can select if you want to generate for All subledgers, the General subledger, or a specific subledger. Note, All is the default option. For the All option, a statement will be generated for each subledger all on their own page.