Often when adding homeowners, you will add them in bulk using the Property & Homeowner Import. There are instances, however when an individual property needs to be added to the community. The following steps will take you through the process of adding single homeowners, as well as adding previous owners.
Note: This method should only be used if the property address does not yet exist, as with a new build. If there was a previous owner, use the steps outlined in How to Process an Ownership Transfer.
First, navigate to the

Homeowners > Homeowners List

page

Select an association

Click the

+ New Property/Lot

button

In the New Homeowner window, fill out as much information as you have available.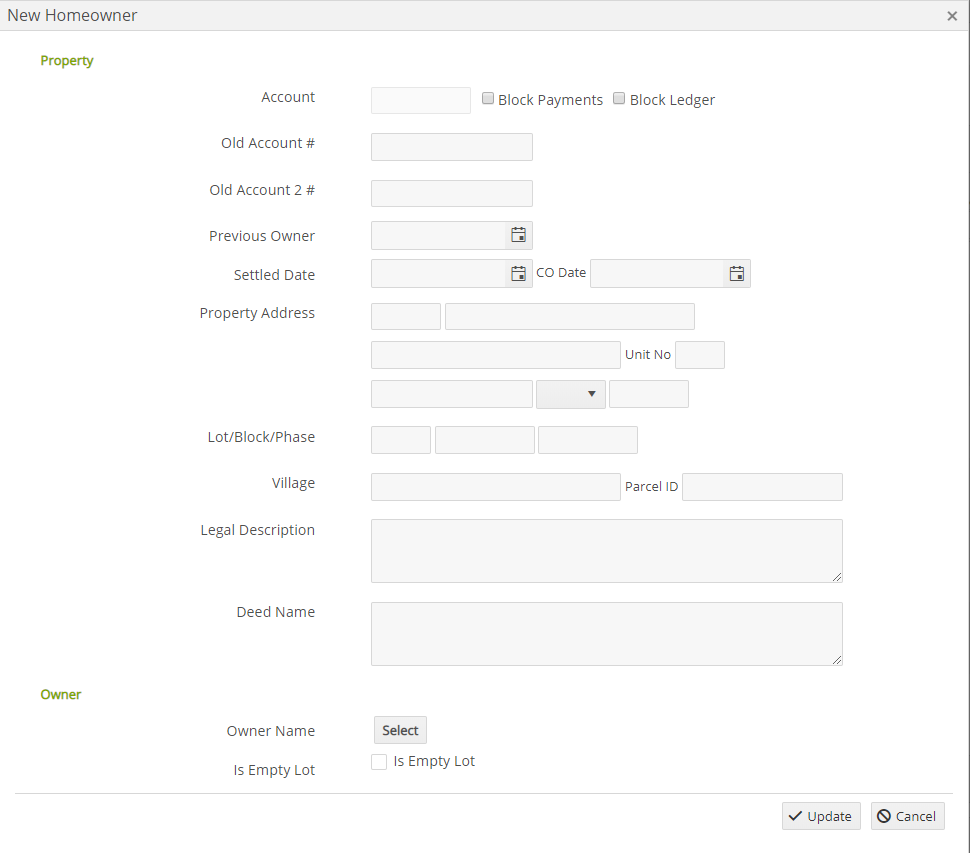 Account:

The system will automatically populate the Account number once the property is created. There is no need to create an account number.

Old Account #1 & #2

: The Old Account fields are used if you need to bring data over from an old system. For instance, Old Account can be used when doing a Beginning Balance Import. Some systems use the same account number for a property, and assign previous owners with a "sub" account. For that reason we provide Old Account #1 and #2.

Previous Owner:

If the owner you are adding is a Previous Owner, enter the final date of their ownership. To put another way, this is the date of closing when they no longer owned the property after that date. This is what populates the "Previous Owner" flag.

Settled Date:

For current owners, this is the date of their closing.

CO Date:

This is the Certificate of Occupancy date. This can later be updated in the case of a new build.

Property Address:

This section is broken up into street number, Address 1, Address 2, city state and zip. You must have at minimum Address 1 combined with Street# or Lot# for the Property to be Created.

Lot/Block/Phase:

These are community-specific designations that are optional.

Village:

These are community-specific designations that are optional.

Parcel ID:

This is an optional field that may be used if a Parcel ID is given.

Legal Description:

This is a place to hold the legal description of the property. Depending on the state/municipality, it may be similar to Lot/Block/Phase, but this option may be more familiar to some clients.

Deed Name:

Deed Name is a name that can be populated and has it's own Communication Merge Tag. If you use that tag and you don't have a deed name populated, then it will fall back to the normal hierarchy of name logic (Business, then Homeowner). The concept was to protect the legal name on a property if your organization wants to merge owners, etc.

Owner Name:

Each property must either be an empty lot or have a homeowner.

To choose an owner, click Select.

If this is an existing owner in your database, you may search for and select them from the list.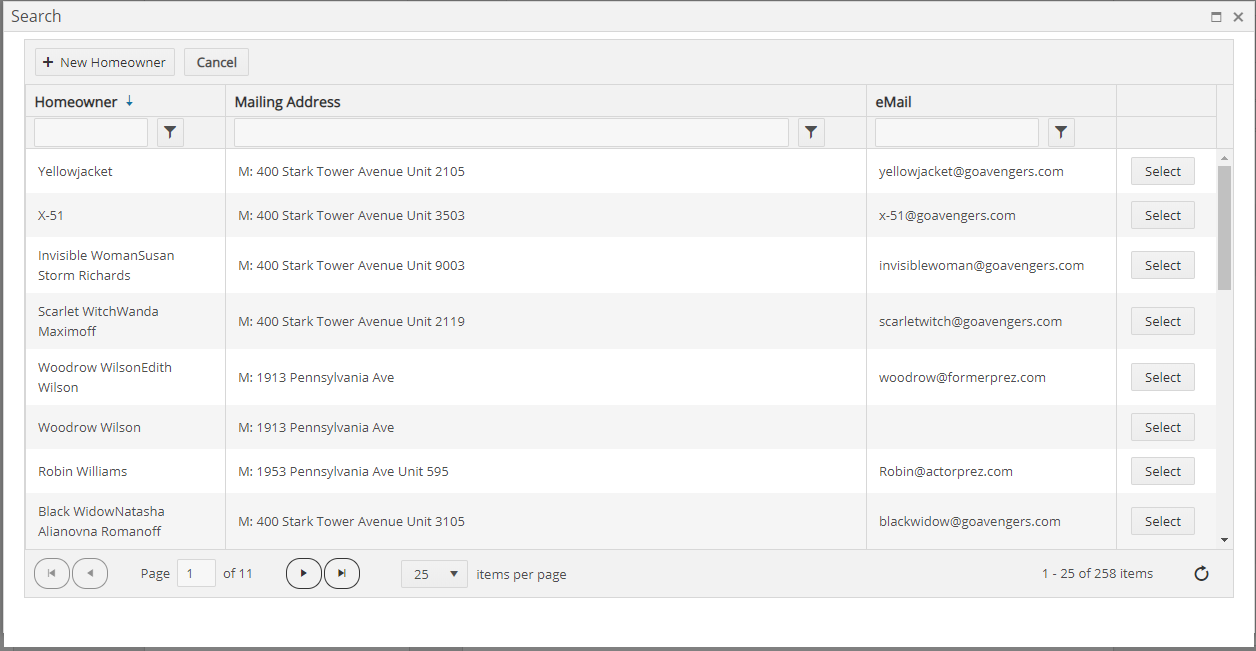 If this is a new owner, click + New Homeowner.

Enter whatever information was given to you, then click Update.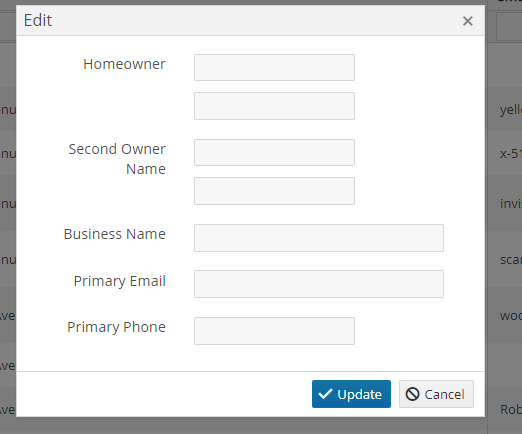 Select the newly created homeowner from the list

Is Empty Lot: If the property is an empty lot, select this box. The property will no longer need an Owner's name if empty lot is selected.