Question: How can I communicate with my board in Vantaca?
Answer:
Great question! There is multiple ways that your management company can communicate with the board within Vantaca:
Board Email
Board Task
Association Task
Board Email
In the Board Email action item, the message will send to every member that has the board role. Keep in mind the action item will automatically close once sent. If a board member chooses to respond to the message, the action item will open back up in the Board Response step and will be assigned to the role defined in the 'Send to' step of the Board Response step of the action item. Generally the Association Manager.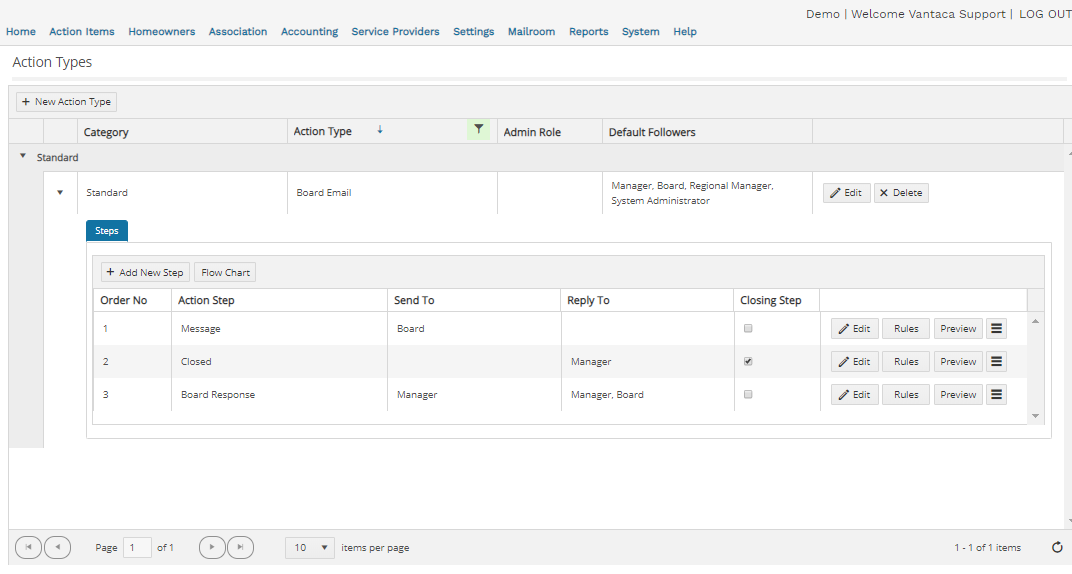 Board Task
In the Board Task action item, the message is sent to the board members. This is used for long term projects that require the board members to take action and allows members to track where they are on the project (ex: updating the governing documents for the new fiscal year).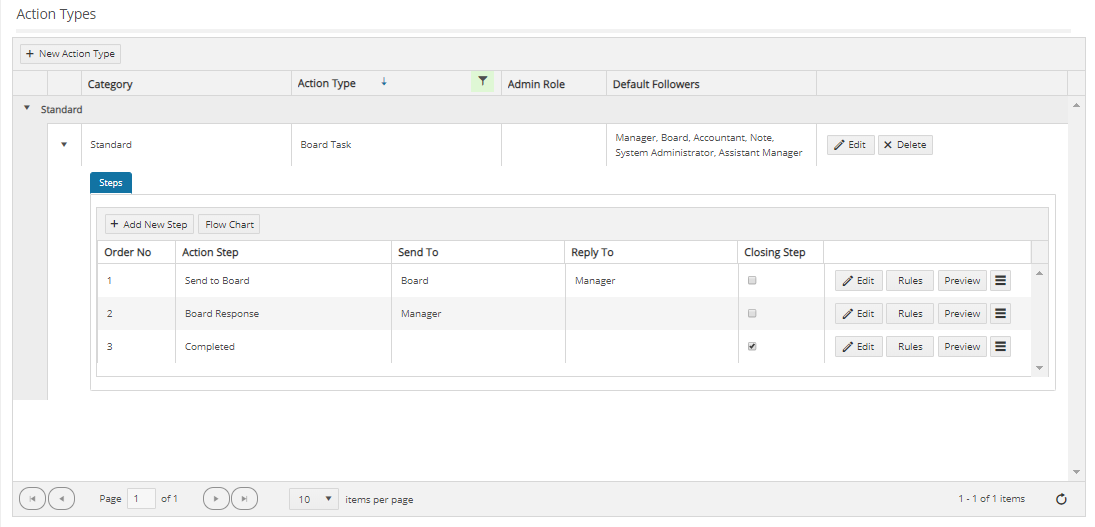 Association Task
In the Association Task action item, this message is sent to all Association members (Board and Managers) and becomes a tracked forum to see status updates on a project.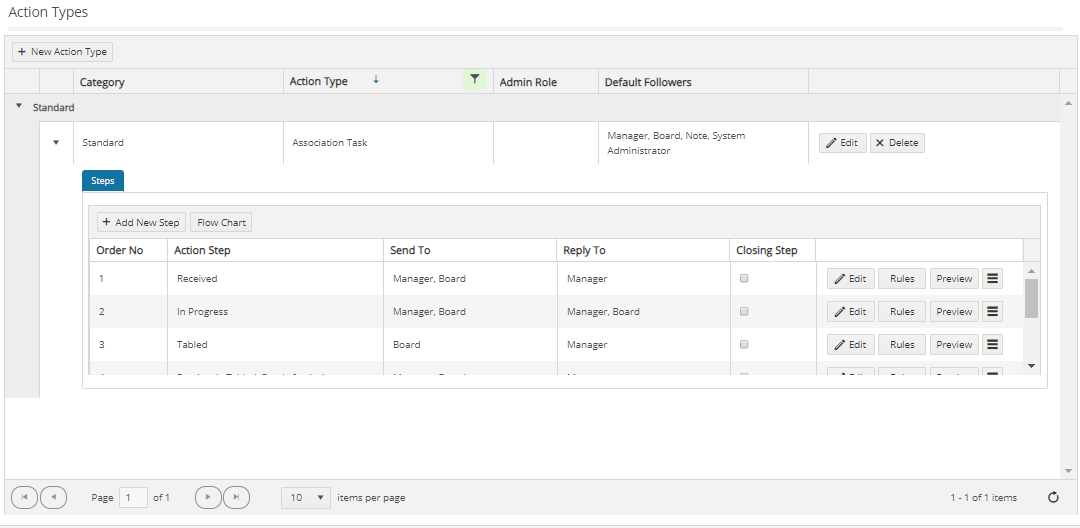 Example: There is a community playground that is going to be setup near the clubhouse, the board has given the management company a budget, and it is now time to find the top three samples for the next meeting.
The Community Manager found a sample, so he/she wants to submit to the board. They would create an Association Task action item, can step it to In progress, add the details, attach a photo and update. Then, the Management company can drive the Board member to the portal to see the association task under Board Action Items and respond by clicking the hamburger menu (note: in the respond to field you can select to Manager or Board but keep in mind that these options are configured in the send to section of the Association Task action item setup).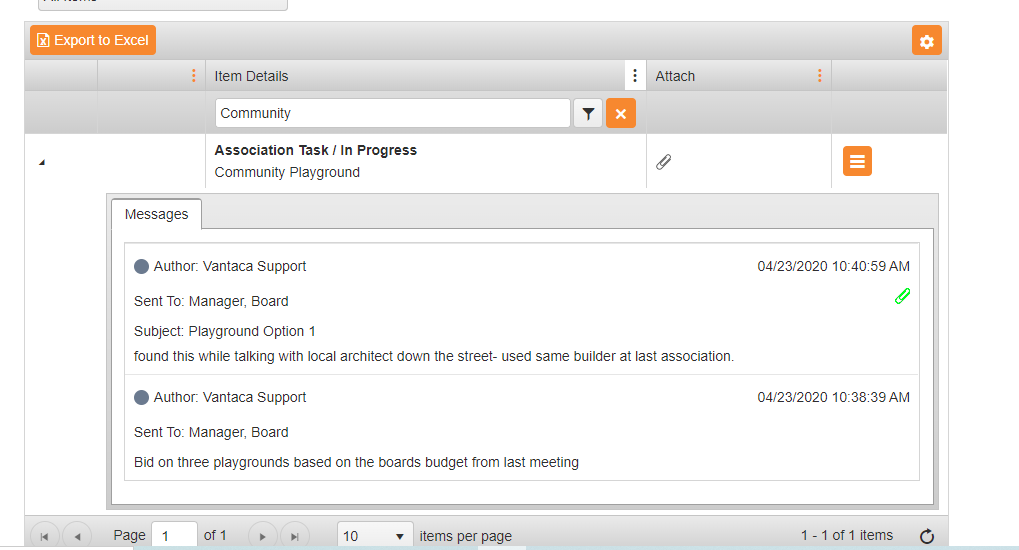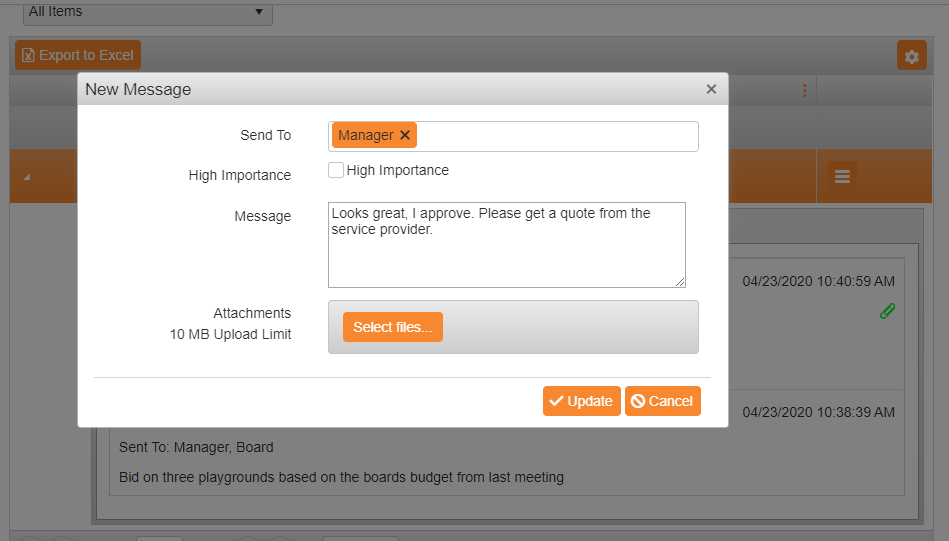 Wait, what if our Board Members do not use the Portal and they want to see Association Tasks?
In this scenario, a member of the management company would go to the all actions tab, type in association task for the action type, export the sheet to excel and save the document. Once saved, create a new action item Board Email, attach the action item spreadsheet and update. As long as everyone is set up as association, board/committee, this will send to all of those board members (Vantaca remembers all the emails based on the roles that you set up so you don't have to type in any emails).