Question: How do I enter a one-time ACH payment?
Answer:
There are many reasons to need to do a one-time draft through ACH. Perhaps the homeowner signed up after the cut-off time to be included in your monthly draft, or perhaps you have a Special Assessment that you do not wish to draft for your entire community. Whatever the reason, see the steps below to process a one-time ACH Payment.
For Homeowners not currently set up on a Payment Plan:
From the Homeowners > Payment Method screen, click +Enroll.


Change the Payment Method for Homeowner from Manual to ACH Draft and then check the Payment Plan box. You do not need to fill out the Billing Start Date. Click Update.
Additional fields will load. If not already on ACH Draft, fill in ABA (Bank Routing #) and Bank Account # and check the Is Savings Account box. Select the Payment Start Date, which is the first date the payment amount will draft on, the Payment End Date and Amount. Note: Since this is a one-time Payment, the Start and End Date would be the same date.
If the homeowner is currently set up for ACH:
From the Homeowners > Payment Method screen, click Edit for the ACH the have currently set up.

When the pop up window for Edit Enrollment comes up click Payment Plan. Fill the payment Start Date and End Date, as well as the Payment Amount. Click Update.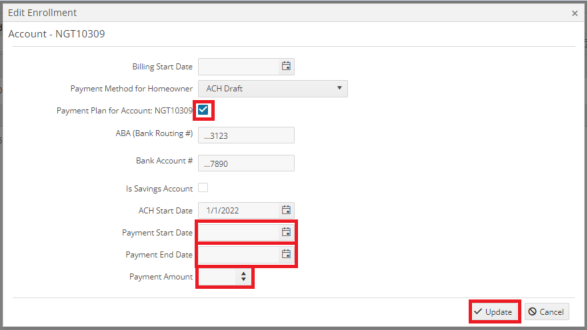 The ACH Start Date will be populated if currently enrolled. If they are not enrolled, leave the field blank.
Note: The Payment Start Date and End Date entered here do not correlate with the ACH draft day set on the Association Settings page, so the date entered as the Payment Start Date is the date the draft will take place for the payment plan. Make sure all banking and account info is correct before updating.
The Payment Start Date MUST be set to the next day. Adding a Payment Start Date of the same day will result in no Payment until the next month.
IMPORTANT: If the owner becomes a previous owner, the system will disable the draft for the regular assessments, however, it will continue to draft the ACH Payment Plan amount until the end date. ACH payment plans must be manually disabled as a part of the resale process. If the ACH payment plan is not disabled, the system will continue to draft the payment plan only until the Payment end date.