There is a new Management Menu on the Vantaca header. This Menu contains screens that will help you know when and how the most important people to your organization are using the Vantaca System. This is becoming increasingly important as everyone increasingly works home. Under the Management Menu, you'll find the following pages:
User Activity
The User Activity screen displays the Login and Action Item activity for everyone in your organization with a Vantaca.net login, or to put it another way, every User on the Settings > Users page.
From the Login Activity tab, you can filter to any week you want, and see login activity for each User that was online during that period. You'll note that you only enter a single date, but it gives you data for that entire calendar week: Sunday - Saturday. The list will give you a count of logins per day, and dropping down on any User will show you a detailed list of logins, with a time stamp, and whether the login was via the Web app or Mobile.

The Activity by Date/Time tab will again show you a "Week in the Life" of your Users, this time filtering by user as well as by Action Item Type. You'll be able to see how many of each Action Item Type each User has stepped during that week. This will make a count only of manual steps, and will not include steps that "Auto-advance". This means only when your User "updates" an action item are they counted. Using this screen will give you an idea of how productive each User is your system has been.

Homeowner Activity
The Homeowner Activity Screen shows the login and Activity details for Homeowners using their Portal information. Similar to the User Activity screen, this will populate a weekly report of when each owner logged in to their portal. If an owner has properties in multiple associations, these are listed together.
The Activity by Date/Time will show the action items that were created by the owner through the portal. This can include ARC Requests, Work Orders, and any Action Item in the "Homeowner Request" Action Item Category that can be created through the Homeowners' Portal.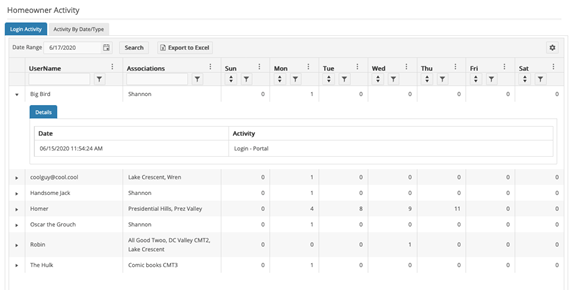 Service Provider Activity
The Service Provider Activity page shows the login activity and action item information for your Service Providers. This page functions similarly to the User Activity screen.

This list is populated with any service provider that has been given access through the Service Provider > Contacts page. For details on how to give a Service Provider access to Vantaca, visit Creating View Only Users to Access Vantaca.net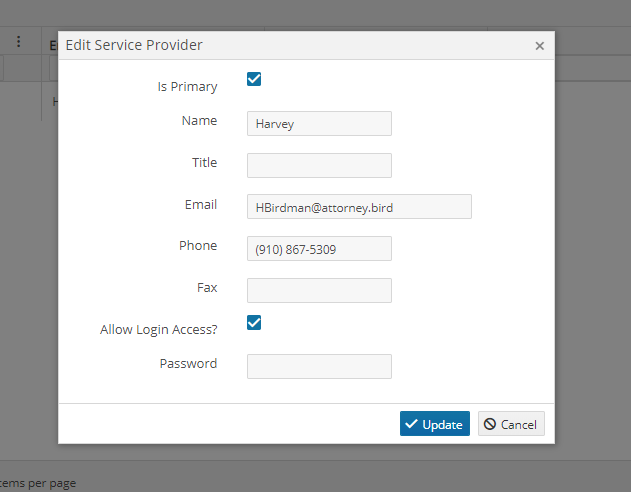 Permissions
The permissions for these pages can found-like all other permissions-on the Settings > Roles page. Under the Management section, you can set the permissions for each Activity page individually. If you cannot access a page, but should be able to, please reach out to your system administrator.