Adding a Management Company itself is very similar to adding a regular Association. This Article will touch on the minor differences between your Management Company and regular Associations. For the basics of creating an Association, visit How to Create a New Association.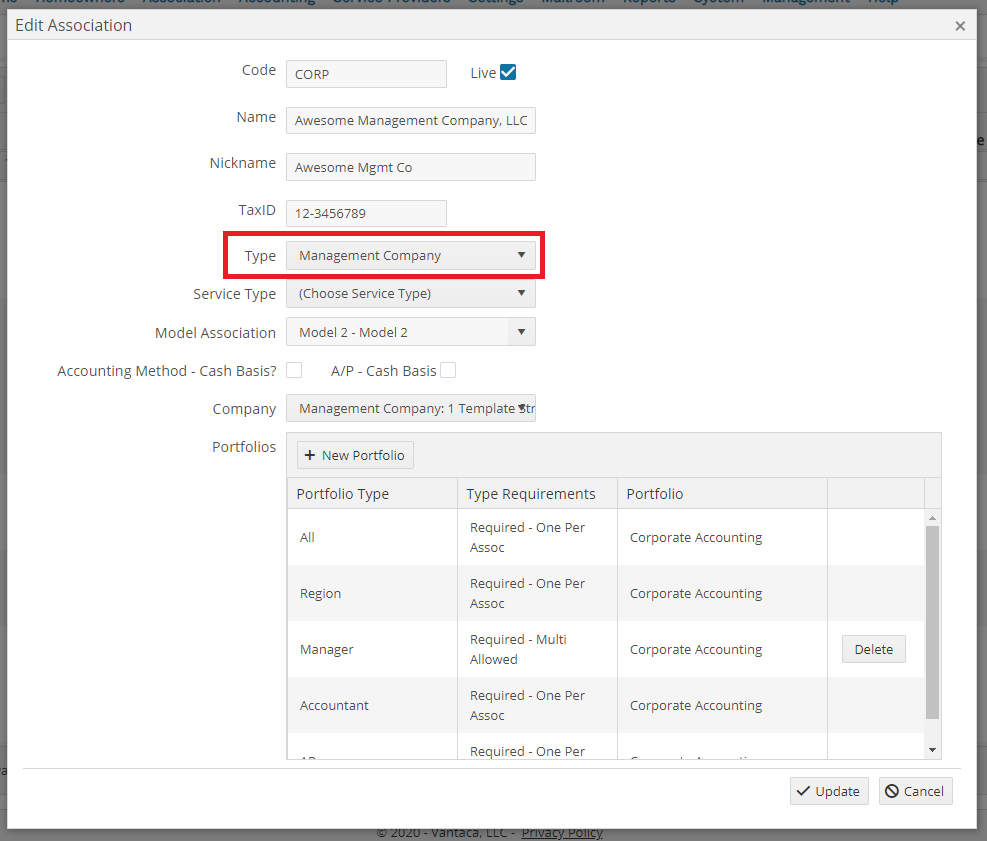 Create a Unique Association Code, and enter the Name of your Company, a Nickname, and your Tax ID.
Type: The Management Center setup introduces a new "Type" of Association: The Management Company. In order to use the features that are discussed in the following articles, you must have an Association set up as your "Management Company".
Choose a Model and a Company for this Association. Typically this will use your Master Model. If you have a primary company, you will use this.
Portfolios: When assigning Porfolios, it will likely be necessary for you to create additional Portfolios for this purpose. That will ensure that normal Managers or Accountants are not involved in the Corporate Accounting. In regards Portfolios, keep in mind that if you create ALL new Portfolios for this Association, be sure to include these Portfolios in your Responsibility so that this Association appears on your Association List. See Understanding Roles, Responsibilities and Portfolios for more details. Once you have assigned your required Porfolios, click Update.
Now that your Management Company Association has been created, we can navigate to the Homeowner List for this association.

Your Live Associations now appear as Homeowners. Marking an Association "Not Live" automatically removes that Association from this Homeowner List, and marking a new Association "Live" automatically adds it. From here we can select these Association "Homeowners" and view their ledgers, etc.