Question: How do I adjust my Adobe printer settings to correctly format my Vantaca checks, statements and mailings?
When printing documents in-house using the Mailroom > Print Queue, documents such as checks, statements, and mailings download from Vantaca into the PDF program designated on your computer. In order to make sure these items fit properly on your page when printed, it may be necessary to adjust the settings on your PDF program.
If using Adobe, the print window has options for Page Scaling. The page scaling often defaults to Shrink to Printable Area which may cause formatting issues on checks and statements. Changing the page scaling to None will likely print the PDF in the intended formatting.
If this doesn't work, check the settings of your printer itself, or try to print from another printer. This will often fix your issue if Page Scaling does not.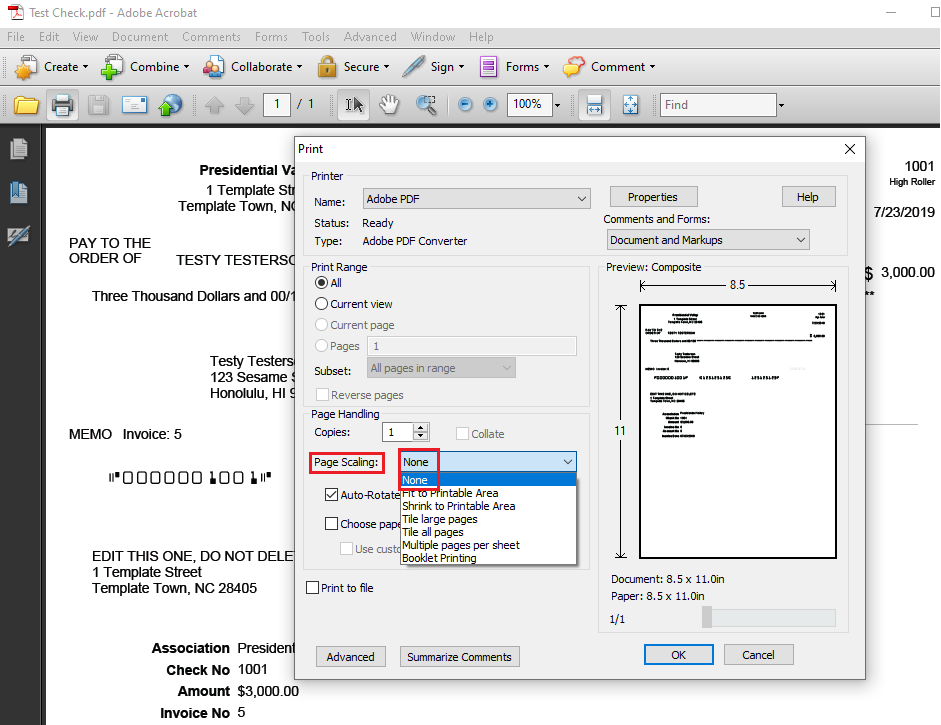 If you do not see these options, you may be using another version of adobe or a different PDF program with different settings. It may take a few adjustments and printed tests to get the proper alignment.
You may also visit Adobe's website for more information on how to adjust your printer settings:
Adobe - How to change default print settings
If you use a different PDF Reader other than Adobe, please visit the website for that program to determine how to adjust printer settings to avoid unwanted margin adjustments.