Summary: This article explains how to use the Accounting section of the Mobile App.
Signature Approval
The Signature Approval page allows you to approve individual or multiple invoices.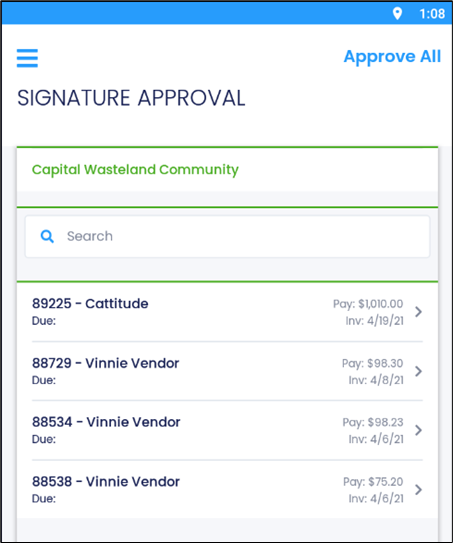 Select Approve All to approve all invoices.

Select Yes or No to the following confirmation message:

Approve All: Are you sure you want to approve and pay ALL invoices listed?


Change the current association by selecting an association from the Association List.
Select an invoice to open the Invoice Details.



Select the Forward Arrow Icon  to access the following options:

Change Step: Opens the Change Step page.
Send Message: Opens the New Message page.
Cancel

Select Approve to approve the invoice signatures and step the invoice to the next step.

Note: If the invoice has already been stepped, the Approve option will be replaced with Pay.

Select the GL item to open the Edit GL page.

Select a GL Account.
Select an Association Fund.
Enter a description if necessary.
Enter the Amount.
Enter an Annotation if necessary.
Select the Checkmark Icon  to save.


Any attachments available can be viewed by selecting View Attachment where available.