Summary: A management company loses an association, and later reacquires them. After going live with the "new" Association, bank transactions are not coming through into the Accounting > Reconciliation page.
Sometimes Associations and Boards realize that the grass is not always greener elsewhere, and you get a chance to Manage an Association that was previously lost. In this article, we'll discuss a specific issue with Reacquiring an Association and not receiving Bank-Side transactions on the Accounting > Reconciliation page.
If an association is marked Not Live but the bank accounts in that association are not marked inactive, Bank-side transactions may still be added to the Left side of the Accounting> Reconciliation page. If a new version of the association is added with the same bank accounts, it will link the transactions to the old Association (since they are the same account number).
Below will outline some potential problems that you would run into when reacquiring an association, particularly banking problems that you may encounter when not done properly.
Potential Problems:
When looking at the Accounting > reconciliation page for your new Association, It appears as though the bank integration is not working. You see transactions going through on the Vantaca side (Right Side) of the reconciliation page but not on the bank-side (Left Side).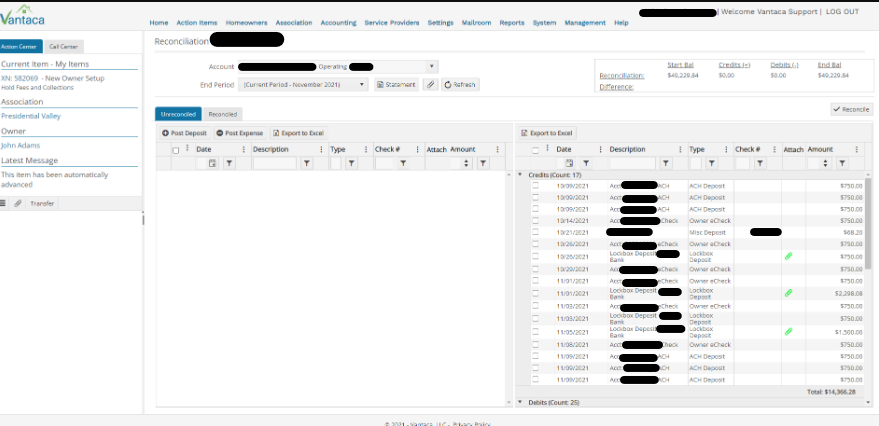 It would appear the Bank Account Updates process is not running. Transactions are coming into the bank account on the bank side as normal. When checking Settings> System Health will appear to be working properly.
Resolution: Delete the bank accounts in the not-live association. This will allow us to pull in transactions to the correct account. Select the association in Association> Bank Accounts. Delete the bank account in the Not Live association so that transactions appear under the Live association after it's been required.