PrePaid Out of Balance Troubleshooting
Prepaid should exist on your balance sheet for any association with owners who have payments greater than the amount charged at that time regardless of Cash or Accrual accounting methods. Vantaca tracks Prepaid separately from AR which may be different than your prior system.
Outs will be identified on the Financial Summary screen or when you compare reports against the balance sheet. If you see an out on the Financial Summary screen, start by refreshing that period and the period prior, to confirm which period contains the root issue.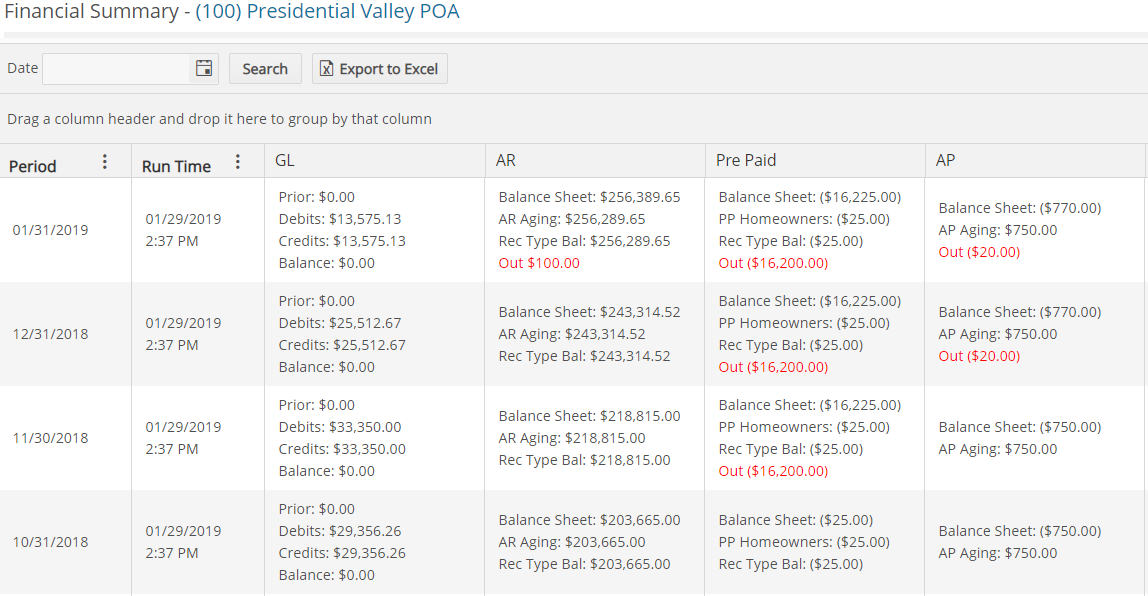 Once the root issue has been narrowed down to a single period, the next step is to identify which day the out occurred within that period. This can be achieved by using the Balance Sheet and Prepaid Homeowners Report. Both can be found in Reports > Financials.
Narrowing down the out to a certain day will consist of updating each report, for each day until you find the last day both reports matched. The first day they no longer match is the day our out occurred. It's possible you may discover multiple outs during this process.
From here, use the GL Research screen and limit it to the activity of the day the reports stopped matching. From here, you should be able to identify information that's missing from a homeowner or a GL entry made in error.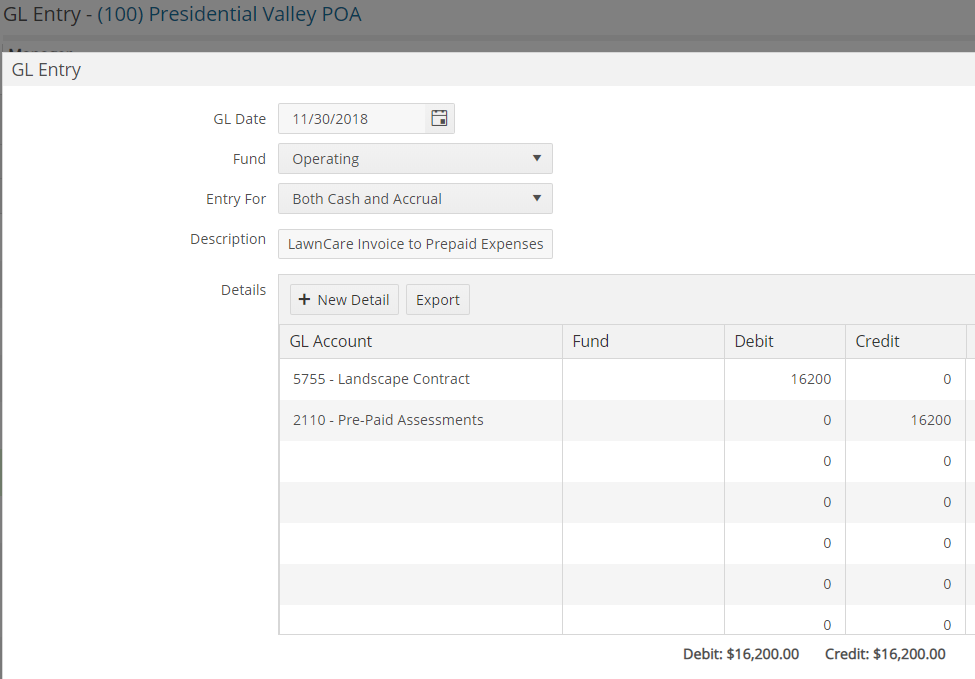 In the above example, you can see the Prepaid Assessment Code should have been Prepaid Expenses. Changing this code and updating the journal entry will correct the issue. Updating the Financial Summary screen will confirm your change was correct.
If the error is homeowner related, you'll need to identify what should have happened and then determine what needs to change. Common errors on homeowner accounts that cause Prepaid outs are bad imports or refunds being charged to Prepaid instead of a unique code for owner refunds.
If the error was from a GL entry, there are a few options:
If it was a stand-alone journal entry, it should be edited not to include the Prepaid code (as determined by your Association > Settings > Default GLs).
If it was a post item or miscellaneous check, the item will need to be unreconciled, deleted from the bank register, and re-processed from the reconciliation screen. Deleting the Bank Register item will also delete an associated GL entry.
If the item was scanned in as a miscellaneous check instead of an owner payment, process a manual owner payment (Posting a Payment to an Owner Account) and use the reconciliation item it creates to pair with the outstanding credit on the (left) bank side.