Summary: This article and tutorial video provides an overview of how to use Association Service Contracts in Vantaca to automatically post or create invoices.
In Vantaca you can use Association Service Contracts to automatically create invoices on a specific day of the month, or can setup invoices to be automatically created and reconciled when matching bank transactions are posted through integrated bank accounts. We call both of these processes "Auto-posting" of invoices and we setup our Auto-posting criteria through Association Service Contracts on the Association > Services page.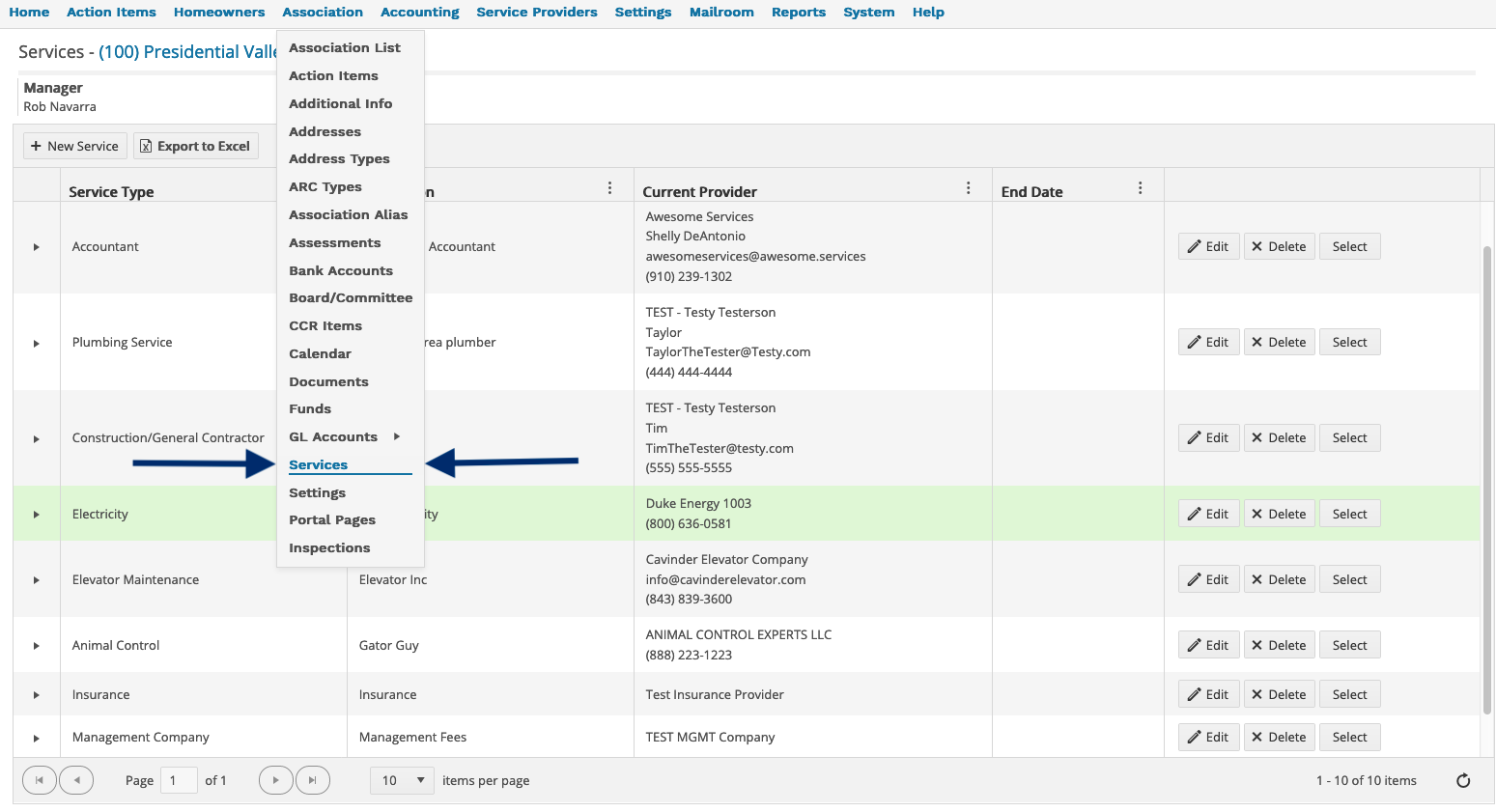 Let's start by using an example of one of our existing service contracts, such as the Insurance contract. This insurance payment is automatically drafted every month, but we don't receive an invoice for it. So, we want to have an invoice created so that we can record the payment to the appropriate general ledger expense information, such as GL code, Fund, descriptions, et cetera.

Clicking the dropdown menu on the service reveals the contracts, and we click edit on the existing contract to reveal the contract details we can use to setup our Auto-posting invoices.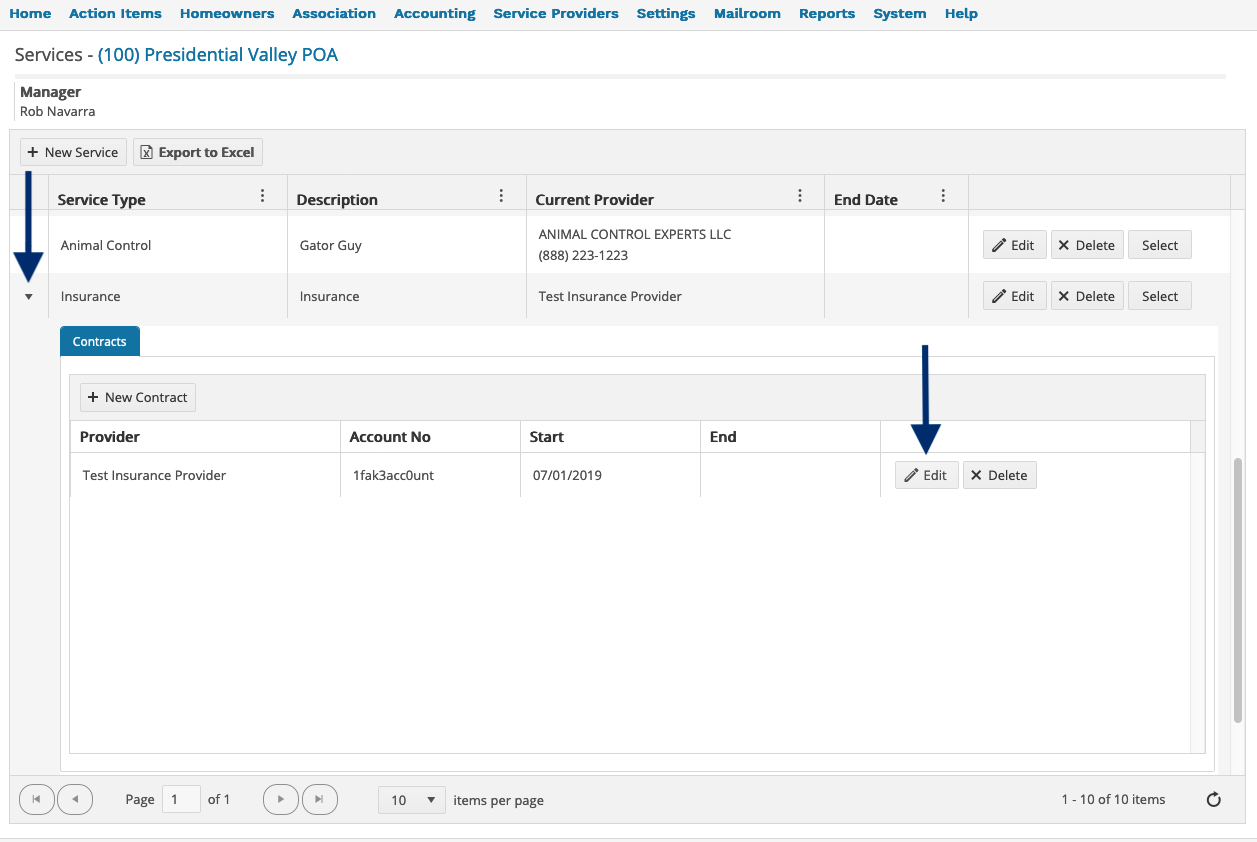 Before editing our Auto-posting criteria, we first want to confirm that we have the correct Service Provider selected and that our start and end dates are correct. It is very helpful to have a unique account number assigned to service contracts, but an account number is not required for auto-posting to work.
Now, let's click on the Auto-posting section.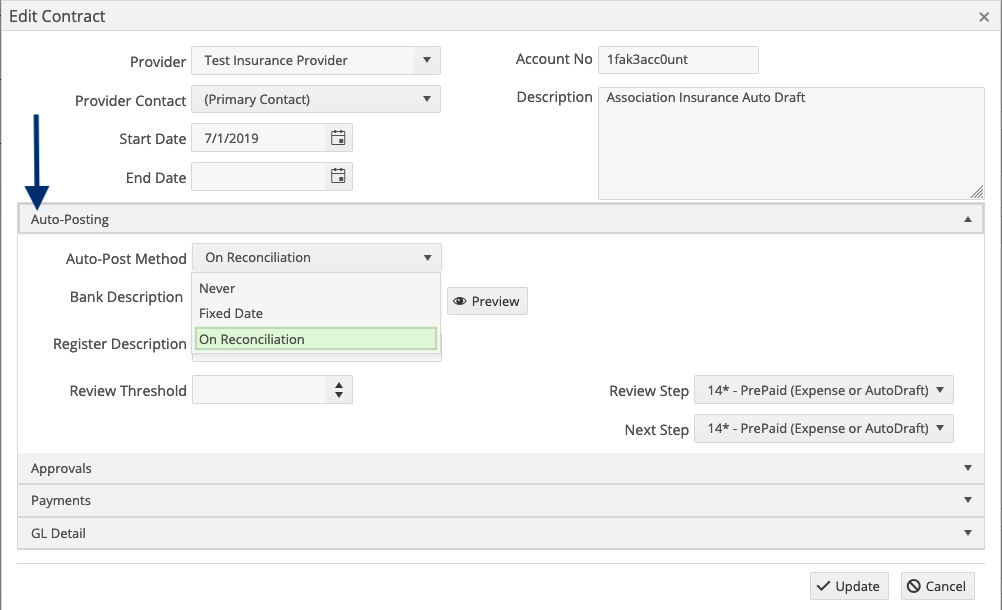 The Auto-Post Method allows us to define how we want an invoice to be automatically created, either on a specific day of the month, or upon reconciliation of transaction.

Selecting "Fixed date" will allow you to define which day of the month you want your invoice for this service contract to be automatically created, by entering your date in the Auto Post On field. If you want your invoice to be created on the 5th day of every month, for example, you can select "5th." The register description will populate the Bank Register description displayed for these transactions. Inputting an amount in the amount column will allow you to define the invoice amount for the invoices that are being created.

The Pre-post Through field will allow you to pre-generate monthly invoices through the date you define. For example, with the Auto Post On date of the 5th selected and a Pre-Post Through date of 12/31/2019, the Association Service Contract will generate an Invoice action item for the 5th of each month from now through 12/31/2019, with the last invoice being posted with an invoice date of 12/5/2019. Note that Auto-posting invoices will only post from tomorrow forward. The system protects against retroactively auto-posting invoices.

For our Insurance Auto-drafts, instead of using a fixed date to have the invoice created, which would then be passed through the approval process, we can go a step further and have this invoice automatically created and reconciled as soon as the transaction is posted on an integrated bank account! To do this, we use the "On Reconciliation" method.

Because we are automatically creating and reconciling an invoice, we want to make sure we are selecting the appropriate invoice, so to do this, we define the unique identifying information in the Bank Description field using the percentage signs. We can get this information from the bank side of the Accounting -> Reconciliation page. By placing the description of the transaction we are looking for between two percentages signs, as we can see below, we are telling Vantaca to search for exactly that description.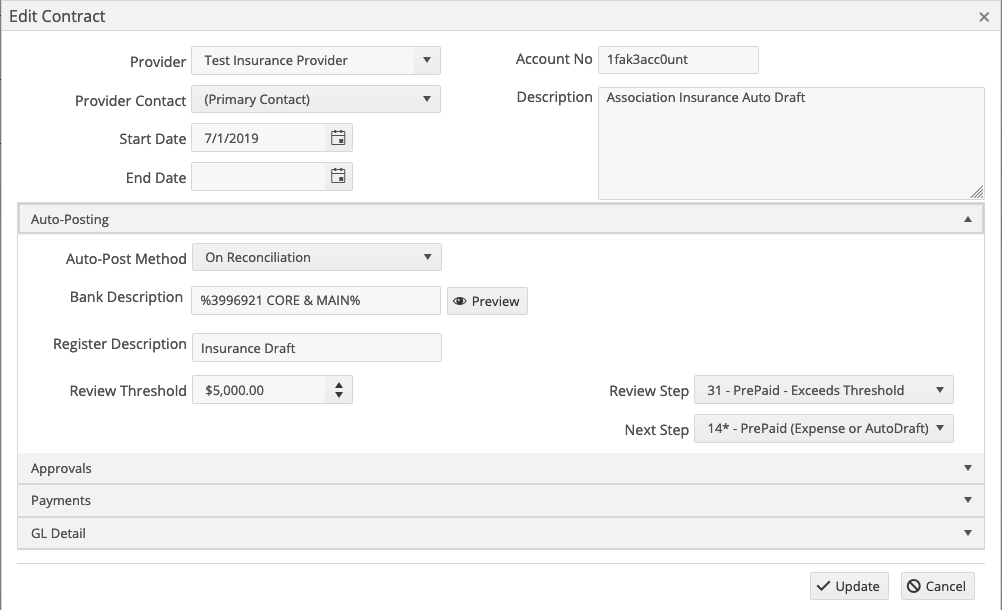 We can use the Preview button to see which transactions would automatically match based on our search terms.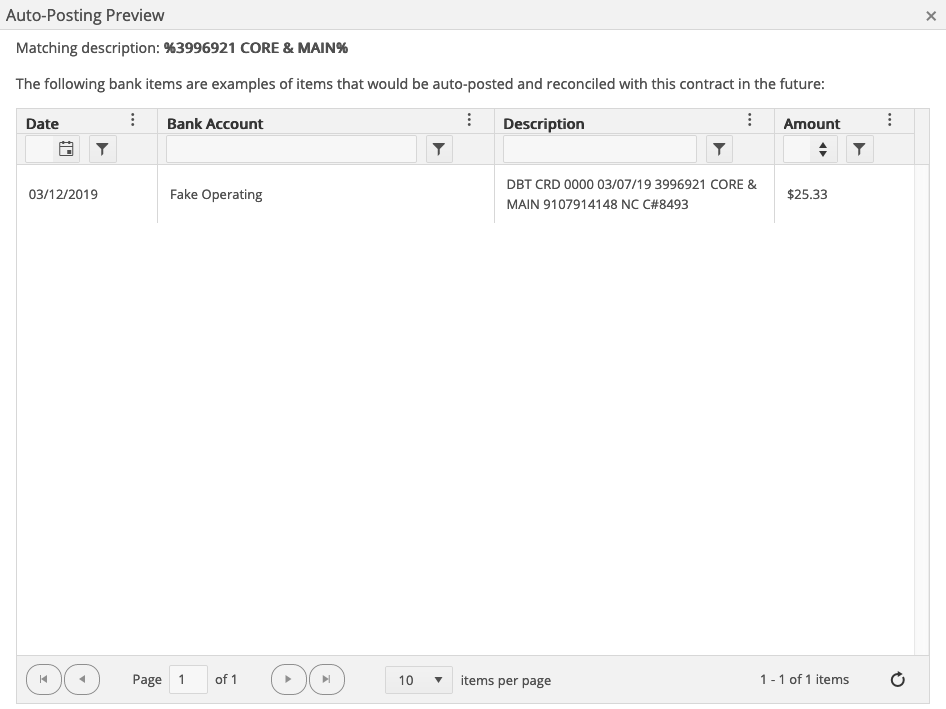 Placing a percentage sign at the beginning of the bank description, but not at the end, will search for any transactions ending with the description you identify. Conversely, using a Percentage sign at the end of the description you enter will search for any transactions beginning with the description you use. We can search to see if our description would match the existing transactions we are looking for, and if not, we can revise our Bank Description accordingly.

The Register description will populate the Bank Register description displayed for these transactions.
The review threshold allows you to define a different path for those payments which exceed your threshold, and we use this review step to define which step of the action item those invoices should be placed in, for further review. Invoices that require further review are presented on the Pre-paid review step of the Approve Invoices action item.

Invoices that do not exceed the review threshold amount will be automatically reconciled and recorded in the step defined in the Next Step field.

Once our Auto-post method has been setup and confirmed, we will want to confirm that we have the correct GL information filled out in the GL Detail tab. Once confirmed, click update to save changes for our new service contract! We have just created an association service contract to automatically create and reconcile invoices upon the posting of transactions to our bank register!

Let's look at one more scenario, using the Fixed Date feature for auto-posting our management fee invoices. This is a very common way of billing associations for their management company fees, because we can automatically create invoices in Vantaca for those fees. So, let's take a look. We click edit to take a look at the existing service contract and make changes.



The service provider is the management company. Our start date and account numbers are confirmed, and the description of Management Fees makes it easy to identify what this contract is for.

Now, we click on the Auto-posting section and select Fixed Date, with a date of the 1st, so that our invoices are automatically created on the first day of each month. If our management fees are a fixed rate, we can enter that rate in the amount field, or we can leave this blank if the management fees fluctuate from month to month. We will use "Monthly Management Fees" as our Register Description.
Now let's go and setup our GL accounts in the GL Detail section. We add our GL for management fees, leave the amount blank and then click Update to save our changes.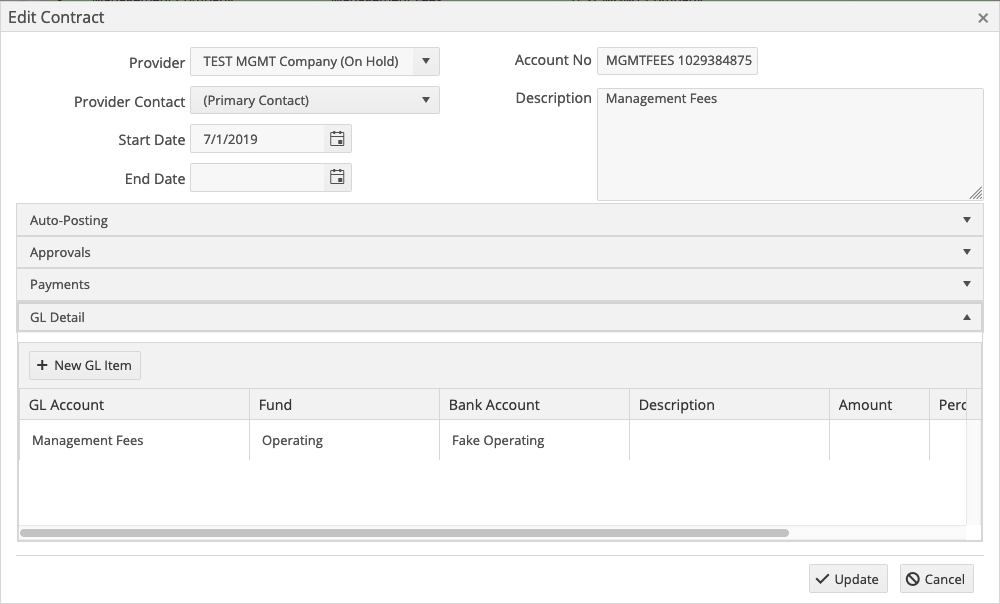 Now, on the first day of each month, a new invoice action item will be created for our management company, using the GL Detail specified, making it even easier for us to get those fees paid in a timely manner!
When the Invoices are created, they will automatically advance to the Approve Invoices step of the Invoice action item to be approved, or depending on your Service Contract Approval settings, can automatically skip the Approval steps!
Additional Reference: