Summary: This article will explain what payment types can and can't be moved along with how to move them. Bank Register items can be moved from one bank account to another within a single association. This process should only be performed to correct the Bank Register when a mistake has been made.
---
Important: Moving Bank Register entries only migrates the register and ledger entries in Vantaca, but no actual funds will be moved by moving the entry.
Move Permission
Before you can begin moving Bank Register items, you need to ensure that you have the Move permission enabled under Settings > Roles > Security > Bank Register.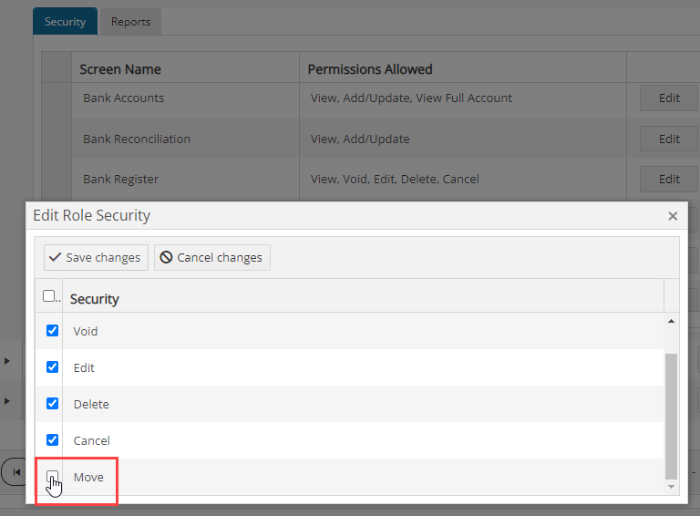 Movable Payment Types
At this time, only Lockbox Deposits and Manual Owner Deposits can be moved. The following payment types cannot be moved without assistance from Vantaca Support: ACH Deposit, Avid, Bank Fees, CC Deposit, Conversion Item, Interest, Invoice (Expense/Autodraft), Invoice ACH, Invoice Check, Invoice SACH, Lockbox Transfer In, Lockbox Transfer Out, Misc. Check, Misc. Deposit, Owner eCheck, Owner Return Payment, Transfer In, Transfer Out, VIP.
Moving the Item
Go to the Accounting > Bank Register page and select an account from the Bank Account dropdown.
Any Lockbox or Manual Owner Deposits will have a Move button in the final column and when clicked, will open the Move Bank Register Entry form:

Select the account that the entry will be moved to with the Select Bank Account to move this entry to dropdown list and click the Move Entry button.

Note: The following instances will prevent you from moving entries by providing an alert along with any corrective actions needed to complete the move:

Closed Fiscal Period: If the transaction is in a closed fiscal period, the period will need to be reopened to successfully complete the move.
Reconciled Transactions: If the transaction has already been reconciled, the transaction will need to be unreconciled to successfully complete the move.

A record of each successful move will be logged as an Association Activity Note.