Summary: Invoices flow into Vantaca three ways: your company's designated invoice email address, via-bulk upload through the Vantaca desktop utility, or by creating a new Invoice action item in Vantaca. All Invoices should ideally be in PDF format, although Vantaca will accept other formats, such as Word or image files.
Our Tutorial video can be found at the end of this article!
Using your Invoice Email Address
Best Use: Service providers can email invoices directly to your company's designated invoice email address.
The Vantaca email reader for invoices will take any attachments that are in Word or Excel format and convert them to pdf. The Invoice email reader will ignore any image file types that are included or attached to the associated email. We do not read image files due to the fact that many people have image files for company logo or other logos in their email signature and we do not want to create invoices for those images! For this reason, we recommend that service providers remit invoices in pdf format.
Each attachment on emails received at the designated invoice email address will prompt the creation of a new invoice action item for each individual attachment that is not an image file type. This method is an excellent choice for service providers to email their invoices directly to your management company.
The body of the email message will be converted into the description of the invoice action item that is created. If no invoice attachment is present on the email received, a new invoice action item will still be created without an attachment.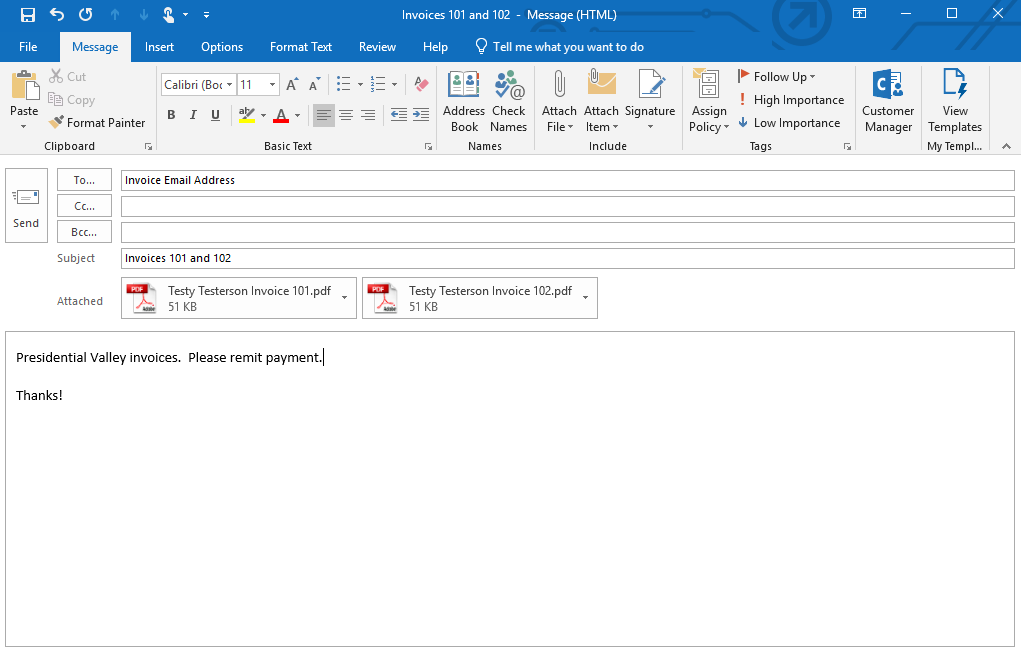 Using the Vantaca Desktop Utility
Best Use: Uploading large batches of invoices that have been received at your office
The Vantaca desktop utility can upload invoices that have been saved to a specific file location. This method is an excellent choice when scanning invoices that are mailed to your office. Please note that each PDF will create its own individual invoice action item, meaning that each invoice, regardless of the number of associated pages, should be formatted into one PDF file. This can be easily accomplished by adjusting your scanner settings. All one-page invoices can be placed into a physical batch with scanner settings adjusted to create one PDF for every one page. The process can be repeated for two-page invoices with scanner settings of one PDF for every two pages, and so on.
Once you have your Invoices scanned to a file, with a pdf per invoice, you can download the desktop utility for the first time. To download, go to the Mailroom > Desktop Utility page. Once the download completes and you are ready to upload your scanned invoices, open the Vantaca desktop utility and log in with your regular Vantaca credentials. Click the Upload Tab. Choose the Invoice Action Type. The Folder will default to the last folder used with the desktop utility, so edit this file location with the three dots to the right of the folder path if necessary. The Vantaca desktop utility will obtain all files from the folder location you specify, so please be sure that the folder only contains the invoices that you intend to upload to Vantaca.
*Please Note* There is a 250mb total file size upload limit on the Desktop Utility. If your folder is larger than that, you will want to break your upload into multiple jobs my moving some PDFs out of your folder prior to upload, and then moving them back in for the subsequent job.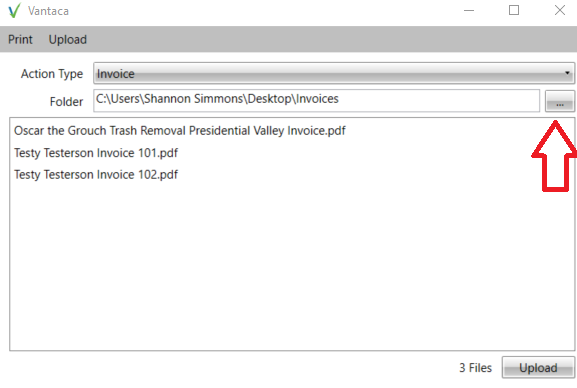 Once you upload your invoices, a Processed folder will be created within the upload folder you have selected, which will contain a .zip file for each individual batch you have previously uploaded. Vantaca reads only the pdf files in the upload folder you have selected and puts the uploaded files in the processed folder, which mean that you can use the same folder for all of the invoice uploads from your scanner. The processed folder also makes it easy to go back in time and see which invoices were uploaded on what day!
Creating New Invoice Action Items
Best use: One-off invoices that need prompt payment
Create a New Action Item by navigating to (1) Action Items > My Action Items, (2) Action Items > All Action Items, or (3) Association > Action Items. Choose the appropriate Association, if not already shown, by clicking the Select button. Choose the Invoice Action Type and set the Current Step to Complete Data Entry.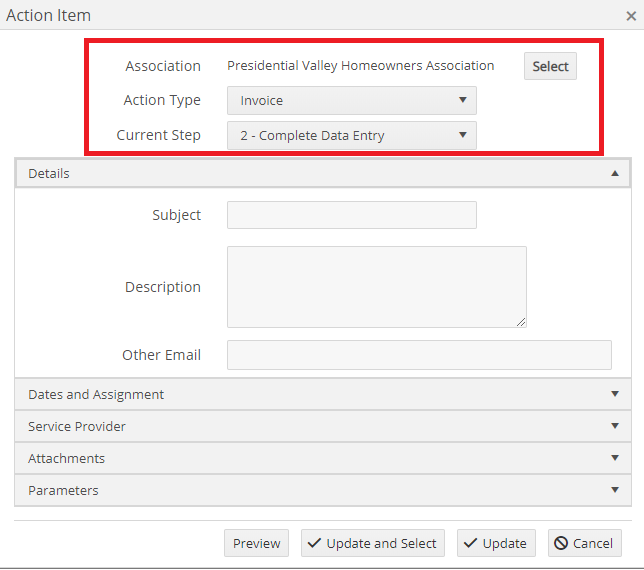 Under the Attachments section, attach one invoice. If you want to place this invoice in the Complete Data Entry queue for AP, click Update. If you want to work with this invoice immediately for immediate processing, click Update and Select.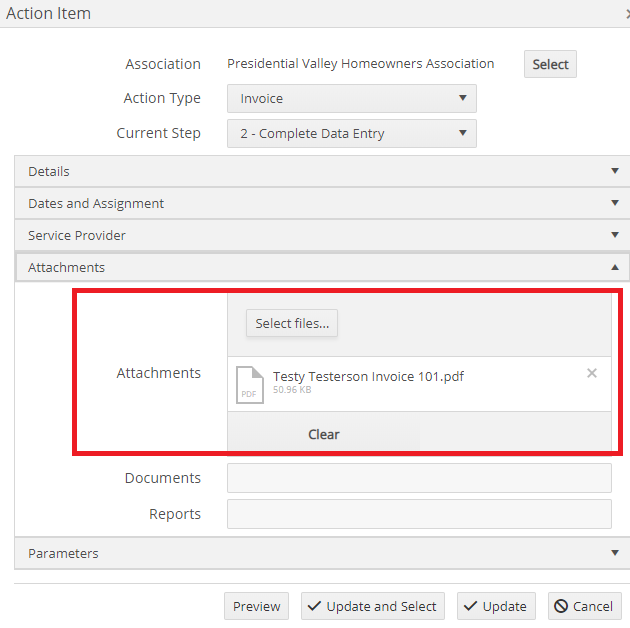 To see all uploaded invoices, go to the All Action Items page and filter your search by type to Invoice.