Email accounts in Vantaca do more than simply send emails. These accounts allow users to create Action Items from newly created emails coming in, creating seamless workflows for however your homeowners or vendors communicate with you.
Example email accounts:
General Email Account: info@ or general@ this email will be used to send out broadcast emails to homeowners. Additionally, this is the email account homeowners will respond to.
AP Email: AP@ or Payables@ this is the email that vendors/service providers will send their invoices to
If the email is brand new and there are no current emails sitting in the inbox, clients can test how emails will flow into the system before their conversion.
Email Setup
Go to Mailroom > Email Accounts (clients do not have access to this page).
Select + Add New Email Account.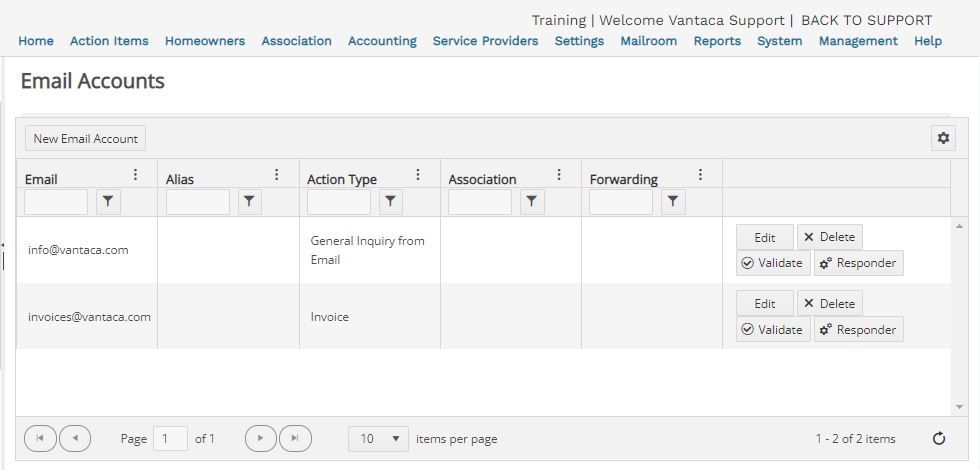 Email Usage Type: select IMAP Access.
Server URL: you can find this on the fact-finding sheet typically (outlook.office365.com) or (imap.gmail.com) for Gmail.
Port: depends on the server you're using. Usually 993 for Outlook. Can be found by logging in to the provided email.
TLS: Transport Mail Security (TLS) is a protocol that encrypts and delivers mail securely for both inbound and outbound mail traffic. It helps prevent eavesdropping between mail servers, keeping your messages private while they're moving between email providers. TLS is being adopted as the standard for secure email. Note: This box must be checked in order for the email to validate.
Email: This is where you will enter the provided email i.e. info@companydomain.com.
Alias: Used primarily for shared mailboxes. For example, a company has info@companydomain.com and invoices@companydomain.com set up as shared mailboxes rather than full accounts, and admin@companydomain.com has full access to both of these mailboxes. For this example, you would then put admin@companydomain.com in the email field and 'invoices' or 'info' in the alias field. (Note: The password would then be for the Admin account and the alias does not require the full email address just the first part, i.e. for this example 'invoices or 'info').
Login: Only necessary if using a private server for email.
Password: This is where you will enter the provided password.
Email Type: Either General, Invoice, or No Reply.
Action Type: General inquiry from email or invoice is the most popular.
Read Folders: Vantaca will pull the emails from the folder that you designate as the "Read Folder". Typically this is the inbox by default. Note: Ensure all unwanted emails are clear from the inbox before validating the email address or leave this box blank until your database goes live and you are ready for Vantaca to start bringing over emails.
Output Folder: Typically populated with the word "Processed". This Processed folder will be created as a folder on the email platform and will house the emails that have been pulled into Vantaca.
Error Folder: Enter "Error".
Note: For clients who use Rackspace email accounts, the Output Folder and Error Folder need to be entered as Inbox.Processed and Inbox.Error.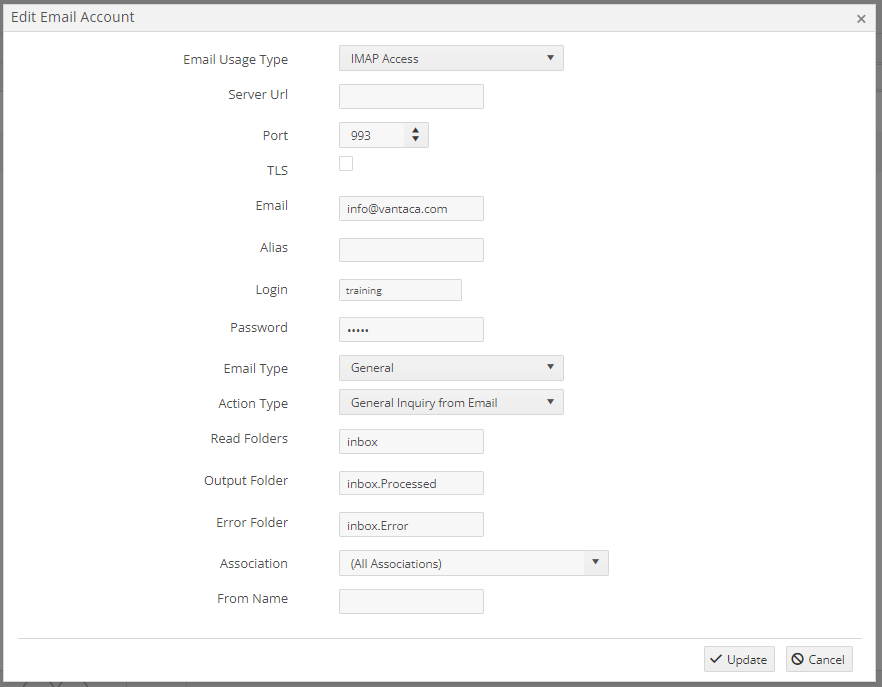 Association: All associations.
From Name: Enter the full company name i.e. ABC Management Company.
Responder
These emails each have an auto-responder, which can send a templated message whenever a new message comes into this email account. By clicking the Responder button next to each of these email types, the client can determine how to respond to an incoming message. This option has all of the same features like the email responses for individual Action Item Steps.
Note: Invoice email action types do not allow for auto responders. As of right now, auto response only works for general inquiry email action types.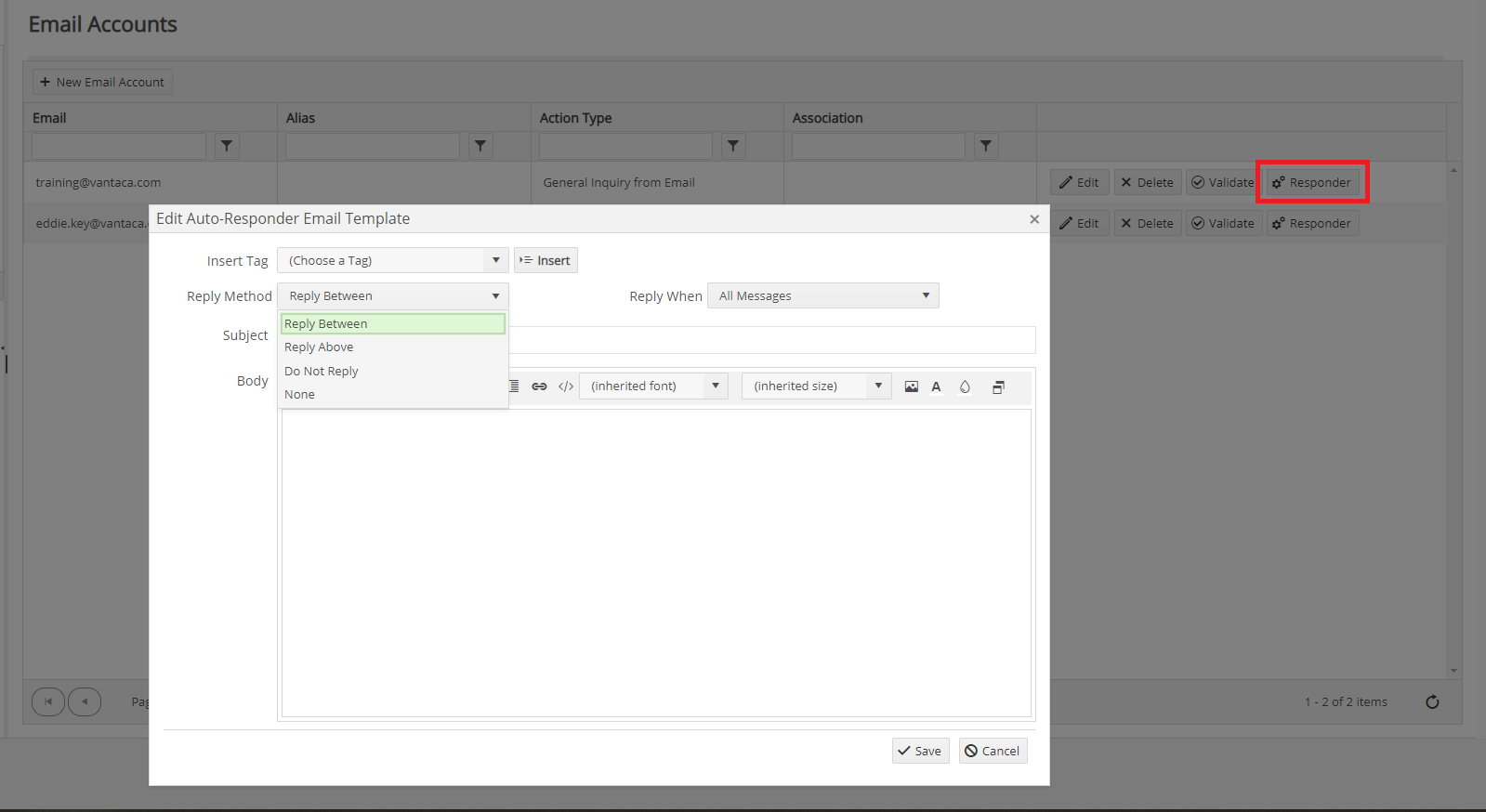 Early Email Testing
If the client has provided brand new email accounts and would like to test how emails flow into the system here is how you would do so.
Log in to their email using the credentials provided (make sure you're in a private browser)
Ensure that there are no emails sitting in the inbox. If there is, relay that to the client as those emails will pull into Vantaca as general inquiry email action items.
In Mailroom > Email Accounts, enter the "Inbox" in the reader field.
Turn on the email sender using the app in the support database.
Communicate with the client to not send any test emails to real owners.
Setting Up a Do Not Reply Email account
Email Research
Forwarding