Summary: This article will discuss how to add a new association.
To create a new association, navigate to the Association > Association List page and click New Association. Then, complete the following form with the information appropriate for your new association.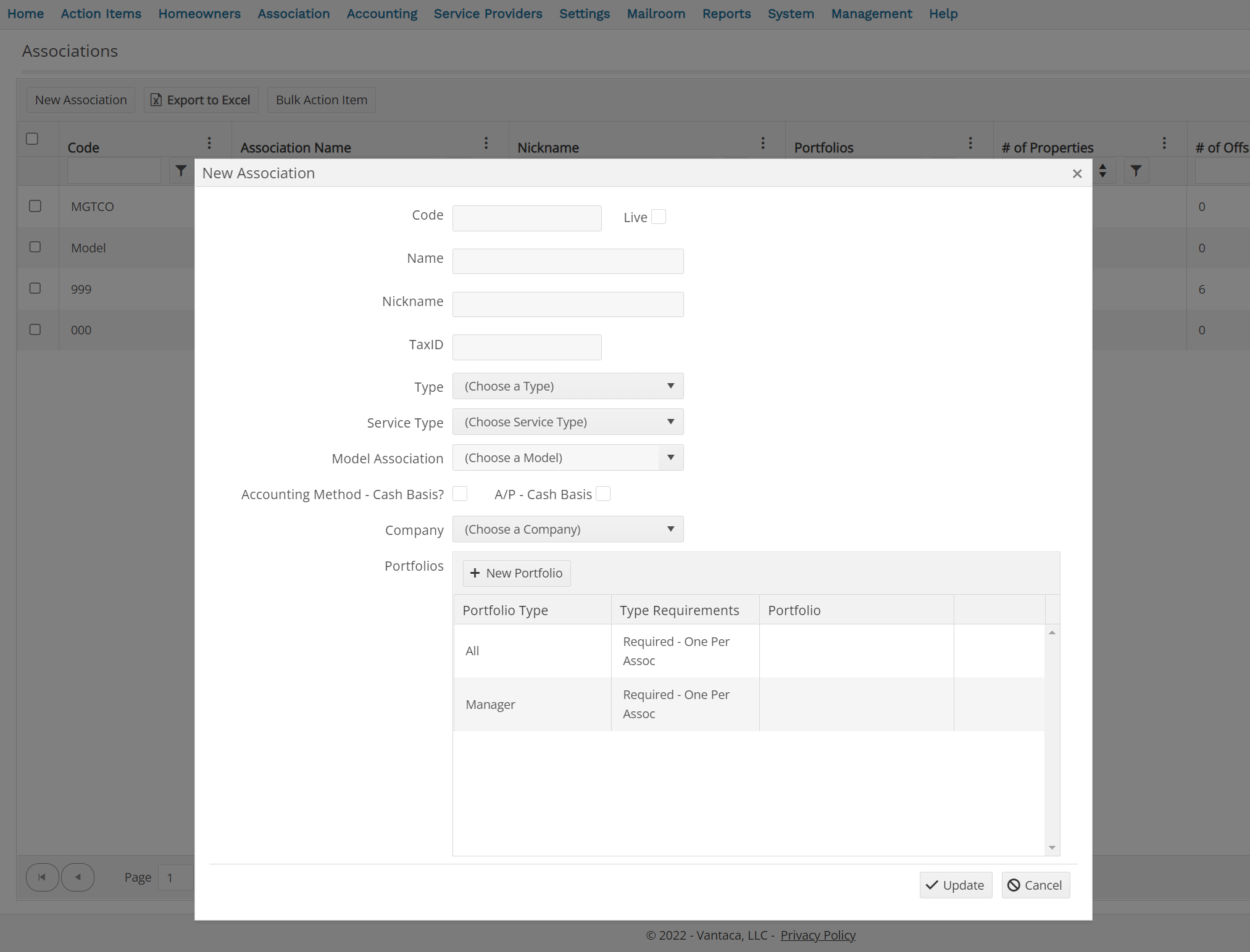 Association Code: This is the code that will be used as a prefix for all account numbers for your new association. Depending on your banking integration, this association code may be required and verified in order to process transactions. Association Codes must be unique. This includes codes that are similar except for leading zeroes; for example, if code "T100" exists then "0T100" will not be allowed.

Is

Liv

e: This turns your association on, and activates all automated processes, such as the sending of emails, processing of transactions, bank reconciliations, etc. We advise only turning your associations "Live" as of the beginning of their contract date.
Name: This is the name of your association that will be used for record-keeping purposes all generated correspondences, including email, letters, coupons and statements.
Nickname: The Nickname field allows you to use a different name for the association for internal viewing purposes. Only users logged into Vantaca.net will be able to see this nickname, as it is not produced on any correspondences and is not displayed in the owner's portal.
Tax ID: This is the Federal Tax ID for your association and is required in order to process bank transactions.
Type: This is where you can identify the type of community this association is, such as HOA, COA, etc.
Service Type: Here you can choose the type of service that your company provides to the new association, such as Full Management or Financials Only. This field is used for display and organization so it is optional.
Model Association: This allows you to choose which Model Association you would like the new association to imitate.
Accounting Method - Cash Basis?: Select to remove AR from reflecting on your Balance Sheet
A/P - Cash Basis: Select to remove AP from reflecting on your Balance Sheet
Company: You can select which Company to use for things such as Portal and Website URL, Remittance Address for statements, etc.
Portfolios: Here you must select which portfolio the Association will use, based on the Portfolio Types available. Each Required Portfolio will display. Click in the Portfolio column to select from the available options. To add additional Portfolios--either from the "Required - Multi Allowed" or the "Not Required" Portfolio Types, click +New Portfolio. Failing to include all Required Portfolios will result in an Error Message and not allow you to create the Association.