Summary: This article explains how to answer and escalate owner questions by using the General Inquiry action type.
When a homeowner sends an email to your company's general communication email address, the email will come into Vantaca as a General Inquiry from Email action item.
The role set up in the Send To field of the Review Request step will receive the action item in their Action Items > My Action Items. This is usually the Customer Service role. The Customer Service representative will review the action item and respond to the homeowner with the correct information. They can respond directly to the owner using the Reply to Owner step which will automatically advance to the Closed step.
If Customer Support representative is not able to provide the correct information, they can step the action item to a number of different steps with the applicable role: Question for Manager, Question for Accountant, Question for AP, etc. This will put the action item in the My Action Items of the user best able to answer the inquiry. This action type can be configured to send to any other role or department that would typically answer homeowner questions.

If the email account used to send the email is not linked to a homeowner's account, the customer support role will need to search for the homeowner and connect it to to the correct association and homeowner account by editing the action item as shown below.

Use the Select button to select an Association on the Action Item details screen.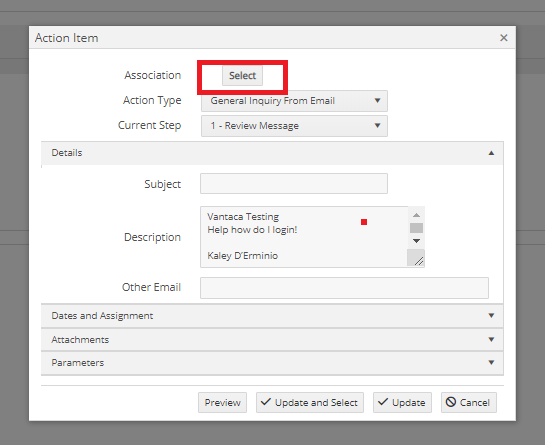 Once the correct association has been selected, find the correct homeowner use the Select button to attach the homeowner to the action item.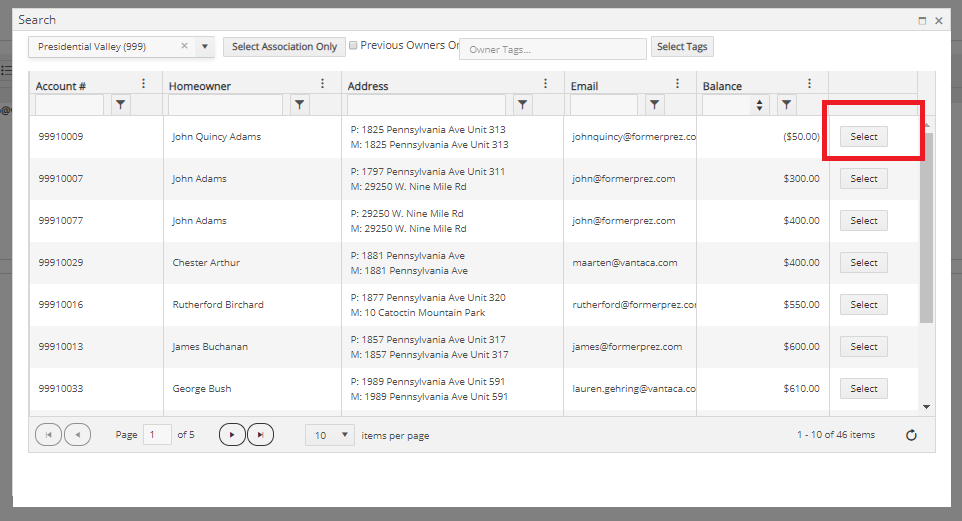 With the action item connected to a homeowner, if the customer support role is able to respond and/or provide the owner with the correct information, they can respond directly to the owner or step the action item to the applicable role. Once the email account has been linked to the homeowner's account, Vantaca saves that information and you will not have to search for the owner next time they send in a question using that email account.
Note: If an owner owns 2 different properties, Vantaca will not be able to assign the association or account because it doesn't know which account to attach it to, so it will always have to be manually attached to the correct association and owner account even if the owner owns property in the same community.
If a homeowner submits a question from the homeowner portal, it will create a General Question action item. To learn more about the General Question action type, visit the General Question Action Item article.