Summary: This article describes how to add attachments when stepping an individual Action Item.
If you are trying to learn more about adding attachments to Action Item configurations check out this article- Documents on Action Items
In addition to uploading attachments from your computer, it's also possible to add different types of documents found in the system to your Action Item when stepping, creating, or adding a message through it.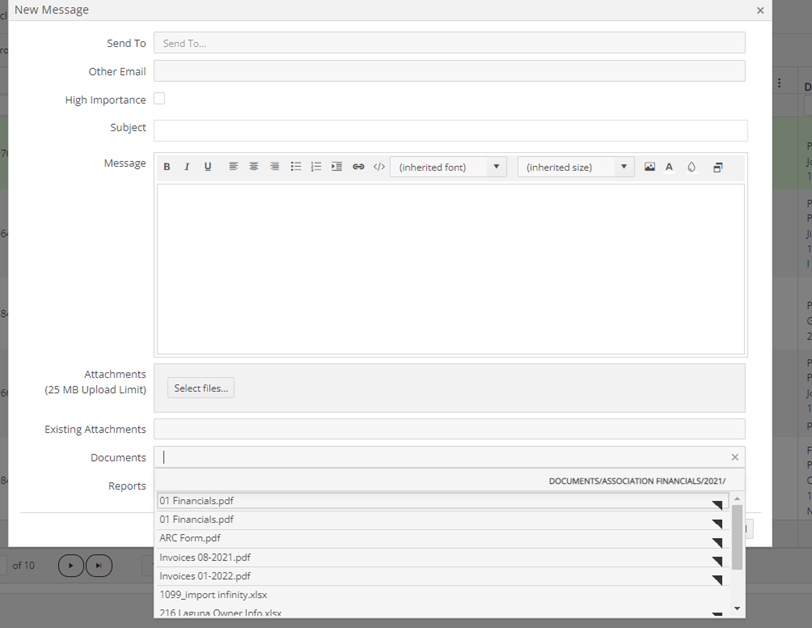 In the Attachments section, you have the following options:
Attachments - Allows users to upload external attachments that are not in Vantaca currently.
Existing Attachments - Pulls any attachments included from a previous step (ie. violation photo, ARC forms)

Note: When stepping an action item, you must use the "Existing Attachment" box to keep an attachment moving through each step. It will not automatically include it when stepping. These need to be selected when moving to a new step to be included.

Documents - Pulls other documents that are located in your Association > Documents (ie. Gate fob forms, Governing Documents)
Reports - Pulls items located on the reports page. Visit Types of Reports for details on these selections.
Note: You can start typing the name of your file and it will shorten your list of available attachments