Summary: This article will demonstrate how to import a Homeowner Tag to an Association. A Homeowner Tag is a quick way to group individual Homeowners together in order to run specific reports or to create Action Items specific to that group, on a future date.
Some examples of reasons why a Homeowner Tag may be needed include:
Landscaping services – Sometimes only certain properties within an Association get a specific service performed by the landscapers. By creating a Tag, that group of owners can be easily identified for messaging, service or work orders and reporting.
Proxies and Ballots – By creating a "Proxy Not Received" Tag or "Ballot Not Received" Tag for the owners in an association, after owner ballots or proxies come in, unclicking that Tag allows you to pull reports or resend messages to owners who still have that Tag box selected. So, when you want to send a reminder notice for owners who have not yet returned their proxies or ballots, selecting this Tag group will automatically select those owners that need a reminder.
Grouping Owners by building numbers or floor – Sometimes you may need to pull reports or message owners specific to one building or a single floor. Creating Tags to separate owners by building, street or floor will make those tasks much easier and more efficient.
Instructions:
Start with an Excel spreadsheet. Vantaca requires three columns in that spreadsheet: Account, TagCategory and Tag. Any additional columns will cause an error when importing.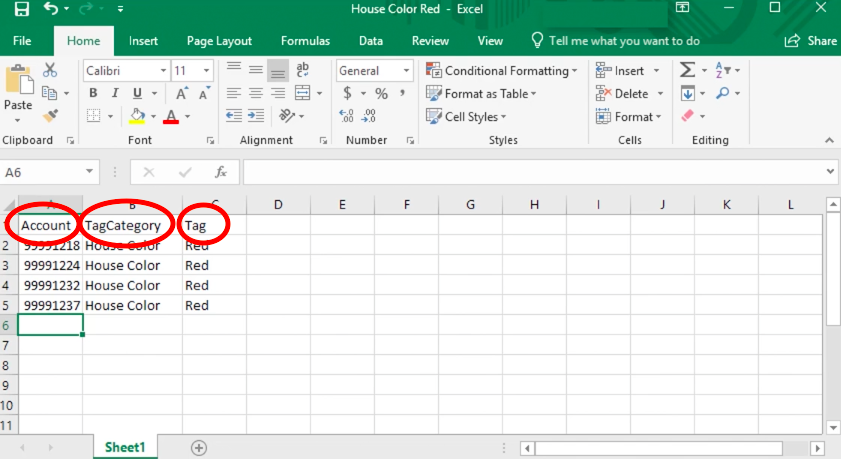 The Account Column will indicate Homeowners' account numbers that will have this Tag selected on their account. All owners in the Association will have the option for the Tag, but only the account numbers on the spreadsheet will have that Tag box selected. In the next column, the TagCategory, every Tag on an account belongs under a Tag Category. For example:

Always consider the Tag category as you may find the need to add more and more Tags to a Community, it makes it easier and "cleaner" to be separated into Categories.
Lastly, the Tag column, is the specific grouping or verbiage you would like to use in order to group these specific accounts together. NOTE: You must use this template for every Homeowner Tag import. It must be three columns, and must have headers in this order, labeled Account, TagCategory and Tag
After saving the spreadsheet, go to the Vantaca Dashboard. Select the Settings > Import page. From this page, select New Import.

Next, select the Import Type, which in this example is Homeowner Tags.

Then make sure to choose the correct Association, and then click "Select Files" button to upload the Excel spreadsheet.

Once this loads, you will be taken to the final import screen. From here, any errors on your spreadsheet will show up in red. Notice at the top that Import Mode is set to Append. Always Append the Homeowner Tag import. The Association is in the box to the right, and in this example, you are validating four records.

If there were any errors during an import, such as mis-labeling the account heading "Tags" instead of "Tag", you would see the following: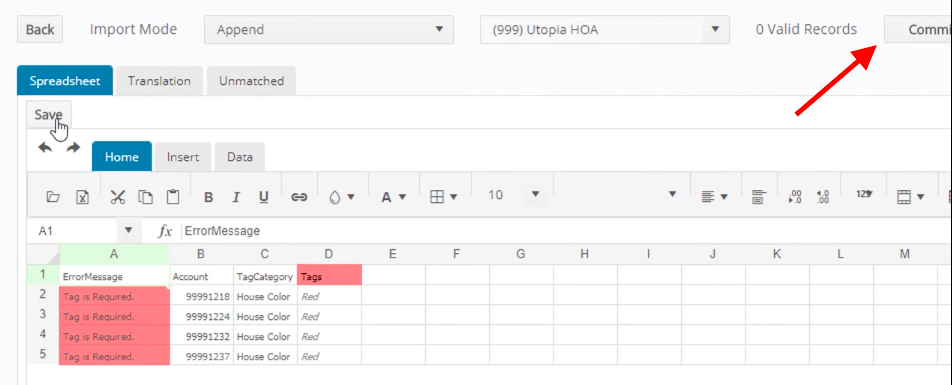 By clicking in the cell, and making the change to "Tag", from "Tags", and hitting the Save Button clears the error message and red highlights. Click Commit to complete the Import.
Once the file is committed, navigate to the Homeowners > Tags screen to view the tags that were imported. Visit the Editing Homeowner Tags after Import to learn about editing the homeowner tags.
Additional Reference: