To import an association's annual budget, you will first need to start with a spreadsheet formatted based on the template below (also attached to this article):

There are two different budget import formats:
1. Budget
2. Budget (New Association Only)
Important Notes:
Perform one import for each individual fund;
Use "Replace" if importing for next year so that it doesn't duplicate lines from what has been predictive;
A Year column is required with a year for each line item;
Annual Column - The annual amount for the budgeted line item;
Jan-Dec - These will override if the Annual amount does not match; unless this is zero, in which case it will take the proposed annual amount and distribute evenly across the months; These Jan - Dec fields are not required if you are distributing equally across the 12 months.
Budget (New Association Only) version creates the GL accounts for the association, which will be added to the existing default GLs for that association. If the GLAccount already exists, then the GLDescription will override the description name for that association.

Add or override GL;
GL Account and GL Description are required fields.

The GLDescription column is only

required if you're selecting the import labeled 'Budget – New Association Only.' If you are using the regular budget import, you can delete that column before importing;

You can use the Translation tab to map the GL accounts on the New Association Only import.
Once your file is in the correct format, go to Settings>Import. Click New Import and choose either Budget or Budget (New Association) from the drop down.
Below is the import screen as you upload the budget import file. Any unmatched columns that do not fit one of the required columns will be highlighted red as seen below and also displayed in the error message column to the far left on the spreadsheet.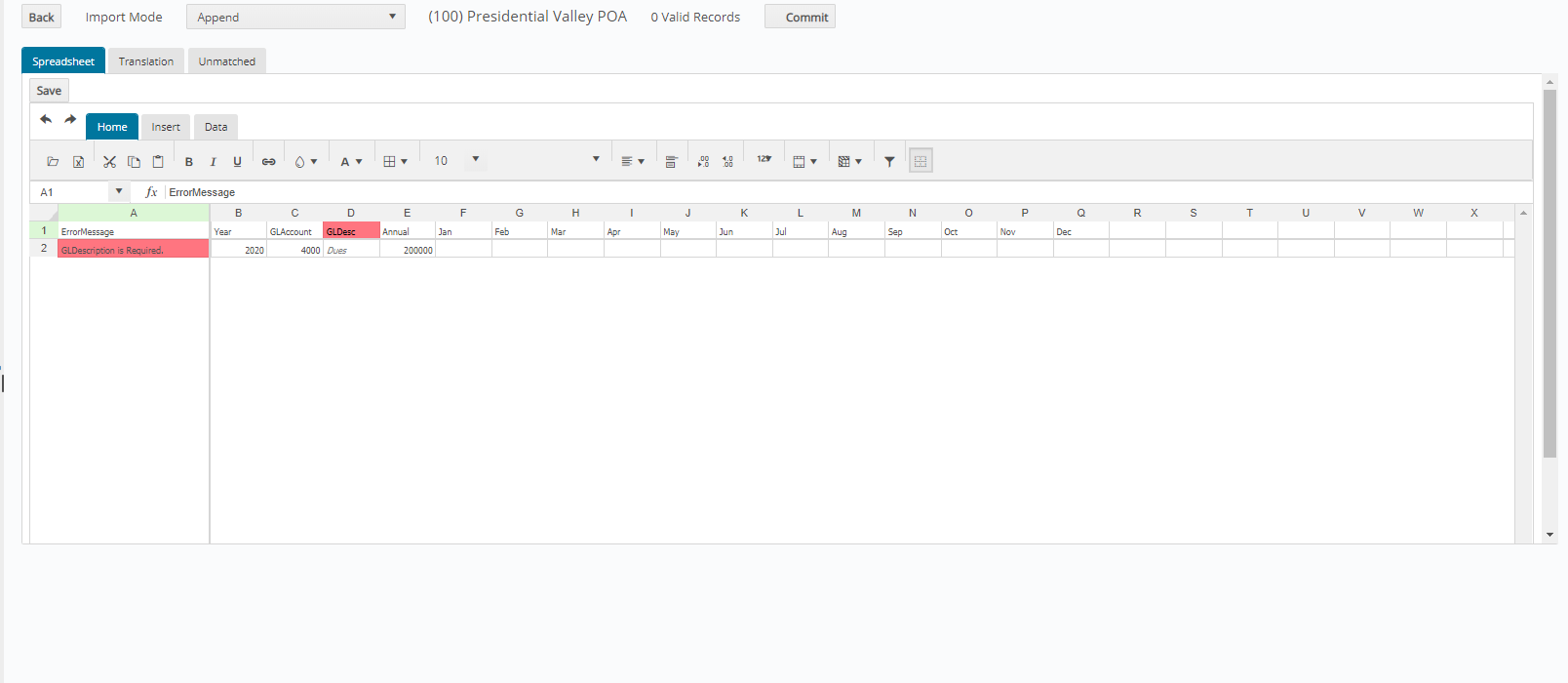 This can be corrected by going to the Unmatched tab and matching the error column with the corresponding required column header as seen below. You can ignore the Error Message field on that tab as it will also be "resolved" when clearing the actual error. Once all columns are matched, the import can be committed. REMINDER: The GLDescription column is only used on the Budget (New Association Only) import.