Most of the payments that are posted to Homeowner Accounts in Vantaca will happen through automated methods such as ACH Drafts, credit card payments, and payments from a Lockbox deposit. However, there is occasionally a need to manually post a payment to an owner's account, such as an outside ACH draft via the association's bank.
Posting a payment to the owner's account will also post the deposit to the bank register, so it is important that the money is not already reflected on the bank register or the bank balance will be inflated.
To post a payment, go to the Homeowner > Ledger and select the Homeowner Account. From the Summary tab, select "New Payment".
*Note: You must have the correct permissions; if you do not see the New Payment button, contact your system administrator.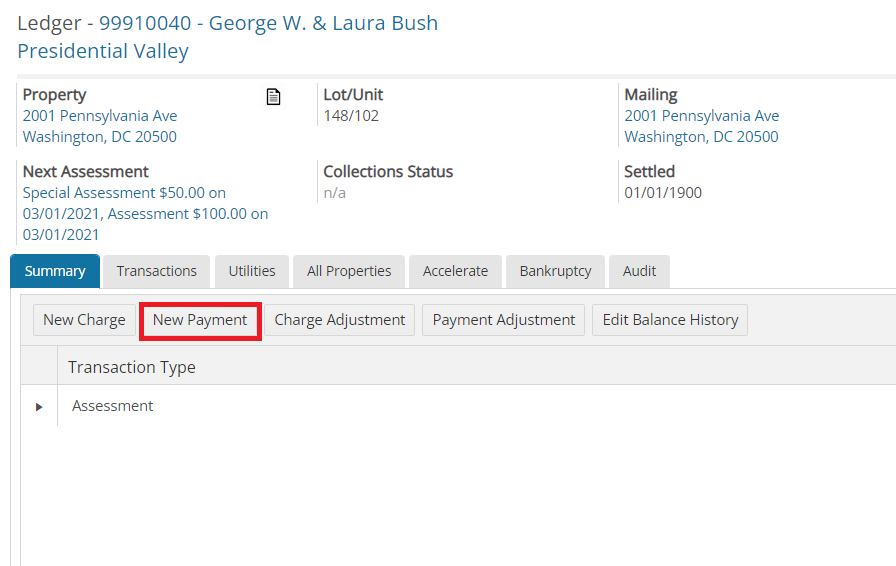 In the New Payment window, enter the details of the payment:
Bank Account is where you can choose which bank account register to apply the payment toward
Payment Date is the date that the item is posted
Type is how the owner paid. The type selected will not affect the payment, it is just for recording purposes
Total Amount of the payment. Once this is entered, the allocation of charges will populate in the box below so that the payment can be distributed
CheckNo(Check Number) - if applicable
Descr - this description field can be used to label the payment and the description you enter will be reflected on the owner's ledger. It is not required to enter a description of the payment, but it is strongly recommended
The Payment Distribution field is used to show which charge(s) the payment is being applied toward on the owner's ledger. The Balance column will show the balance of each charge type on the owners account. The Payment column is where the payment can be applied or distributed. In this example, $50 applied to Annual Assessment and $50 to Monthly Assessment, but it can be broken up as needed.
These payments will then be reflected on the Association's Bank Register as a "Manual Owner Deposit" for easy identification.