Summary: The purpose of this article is to define and differentiate Roles, Responsibilities, and Portfolios in the Vantaca system.
Nearly everything in Vantaca is based in some ways on the Roles, Responsibilities, and Portfolios of a User. From what pages they can see, to who gets replies on emails, these items have a huge impact on your organization. Understanding clearly how these function and interact with each other takes time, but mastery of these key concepts is necessary to truly master Vantaca Administration.
Users
To put it simply, everyone that logs into Vantaca is a User. This could be Jenny in Accounting, all the members of your AP team, or the Collection Attorney that has Vendor access to the system. In order for Users to do work in Vantaca, they'll need to be a User with all the other items in this article.
To learn about actually creating or updating a User in Vantaca, check out Create a New User in Vantaca.
---
Roles
Roles in Vantaca set the user's permissions and access. Roles typically line up with the different job descriptions in your Organization. Some examples of common Roles are:
Manager
Accountant
Customer Support
Closing Coordinator
Traffic Cop
AP
AP - Pay
Board
Homeowner
The Role defines which pages users can access and which functions they can perform. Giving different permissions to different Roles helps to make learning the system easier and limit possible issues. For instance, the Accountant Role would need access to screens like Accounting > Bank Reconciliation, but Customer Support would not.
Action Item steps are also assigned to specific Roles. Action Items are designed to go to the Role of the person that needs to do the work for a certain step of the task, then move on to the next person. Think of it like an assembly line.
Here is a (very basic) example of how a Financial Delivery Action Item might work. You can see that each "step" of the process goes to the person best suited to do the work (or receive the information).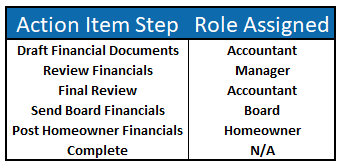 Roles are managed on the Settings > Roles page. Here you can look at each Role in your database and adjust the permissions accordingly. You can even create NEW Roles if you have a specific type of Role within your organization that you need to add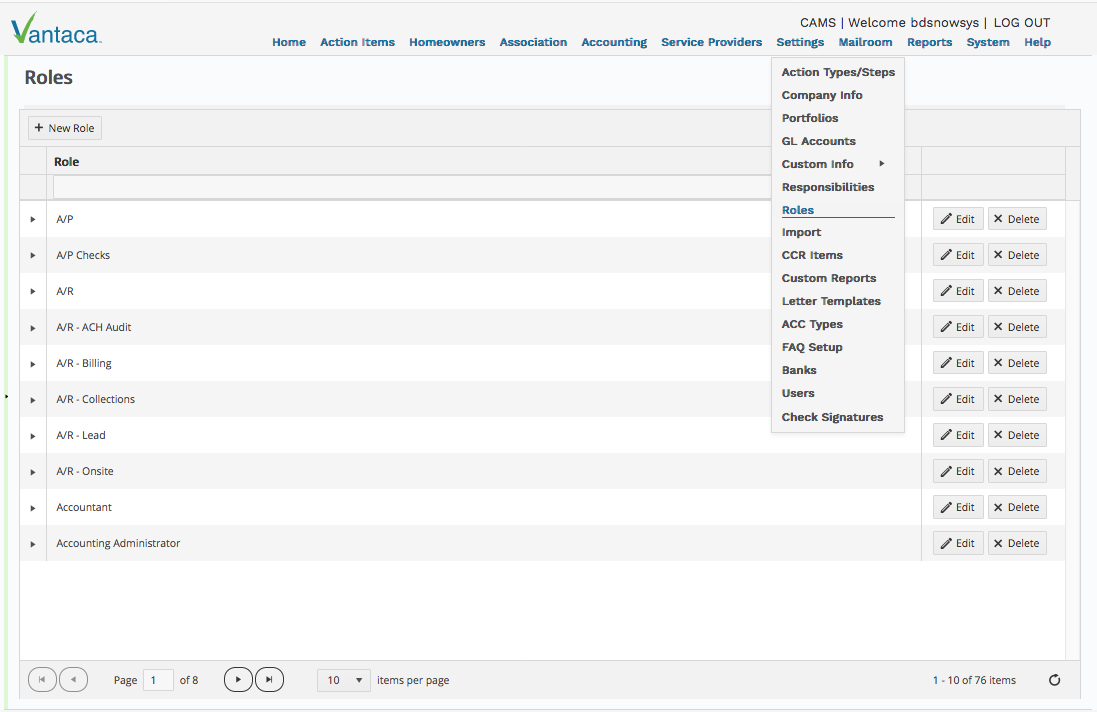 For a complete list of the Permissions in Vantaca and what they mean, visit the Role Securities article.
---
Portfolios
Portfolios are likely a familiar concept, as they already exist in the context of HOA Management. A Manager has a Portfolio of Associations that they work in. Portfolios are simply groups of Associations. These groups help Vantaca separate out different Associations, making it easy to link these groups to the Roles that use them. Here are some examples of typical Portfolios
Manager - Gary
Accountant - Jenny
Region - North
All*
The All Portfolio is special, in that ALL of your Associations belong to it. This is used for Roles that operate inside ALL of your Associations, such as Closing Coordinators, Customer Support, or whoever handles your After-Hours Emergencies.
Portfolio Types
While we tend to think of Portfolios in terms of the Roles that will use them, Portfolio Types are based on what each Association in your organization NEEDS to operate. Each Portfolio Type fits into 1 of three categories.
Required – One Per Assoc.

An association must have one, and only one portfolio of this type.
The association may also belong to portfolios of other types.
If an association is placed into a Portfolio Type with this requirement, it will automatically be removed from any other Portfolios of the same type.

Required – Multi Allowed

An association must have at least one portfolio of this type.
An association may have as many portfolios of this type as necessary.

Not Required

An association does not need to have a portfolio of this type selected.
An association may belong to as many portfolios of this type as necessary.
For example, if in your Organization, each Association has only a single Accountant, then the Accountant Portfolio Type would be "Required - One Per Assoc."
If you have Associations with more than one Manager, or you pair managers-in-training up with more senior managers when hiring new employees, the Manager Portfolio Type would be "Required - Multi Allowed".
Finally, not all your Associations will have an On-Site Manager, or a Handyman, and so these Portfolio Types would be "Not Required".
Note: To Learn more about Portfolio Types, click Portfolio Types.
---
Responsibilities
Responsibilities are the assignment of a Portfolio to a specific Role. This is where Vantaca defines which Roles have access to and are responsible for Action Items for which specific Portfolios or Associations. Specific users are then assigned to each Responsibility. The responsibility for Action Items are assigned to specific Roles, so the Responsibilities allow us to give different users the same Roles but for different Associations or Portfolios.
In a nutshell: Responsibilities are the glue that holds Users, Roles, and Portfolios together.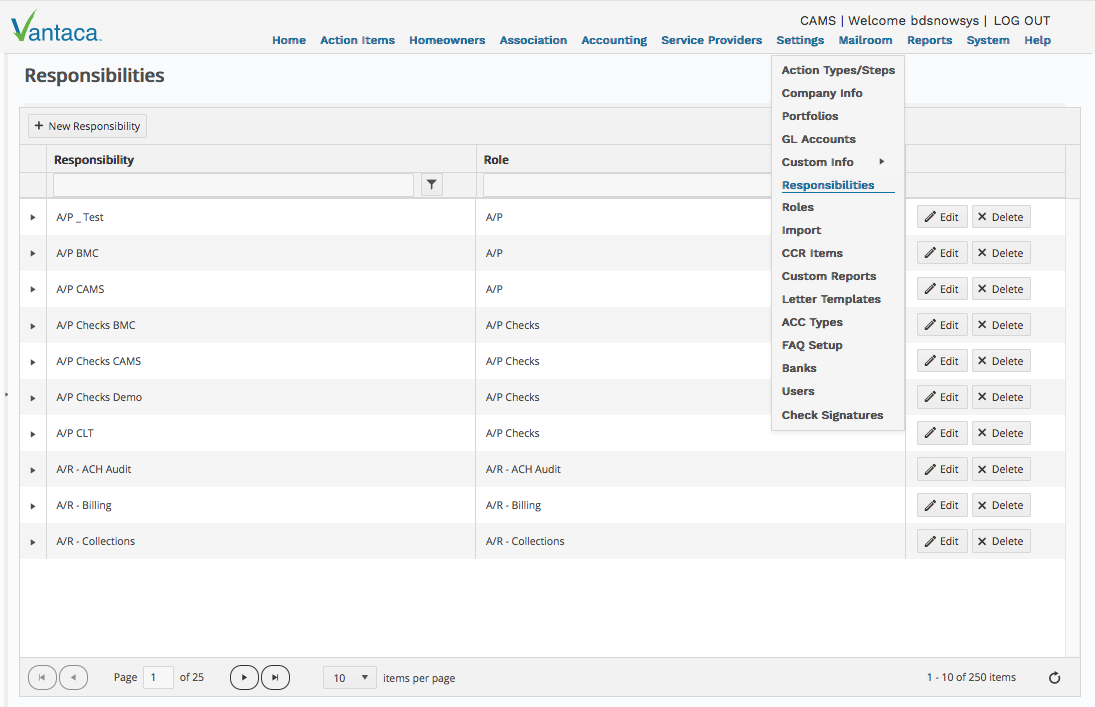 Just like in real life, Responsibilities may overlap. It's possible for a single User to have multiple responsibilities. For instance, the Regional Manager for your company has a specific Responsibility, but they ALSO may still maintain a Portfolio as a Manager, and this is a separate responsibility.
Note: When establishing Responsibilities, there is the potential for overlap in Role Securities. In other words, when a User is set up with a Role allowing a permission in one association (Manager of community A), if they are assigned a "View Only" Responsibility in another association with another Role (View Only in community B), they will be able to exercise the same permissions in both associations (community A & B).
This may include permissions such as Edit Association Additional Info, Add or Edit Board Member configurations, Budget Approval, etc. However, that User will not be assigned any items in their My Action Items for community B that they would have in community A. A user would have to actually seek out these items to change.
---
The Big Picture
So, how does this all work?
Everyone that logs into Vantaca is a User, with a certain set of Roles or permission, working inside of a Portfolio or group of Associations, and this all encompasses their Responsibilities within your company.