Summary: This article provides instructions to set up GL beginning balances for a new Association.
Objectives:
Search and find an Association. (If an Association has not yet been created, CLICK HERE to view the article on Creating a New Association)
Create GL beginning balance entries for a new Association
Search and find existing GL Accounts for an Association
Manual Entry
Instructions:
Confirm that the new Association has already been created by hovering your cursor over the Association drop down menu and choosing the Association List screen. Search for and select the Association.

Next, confirm that the GL Accounts for which you want to create beginning balance entries are already established by hovering your cursor over the on the Association drop down menu and choosing the GL Accounts screen. Note: do not choose GL Groups.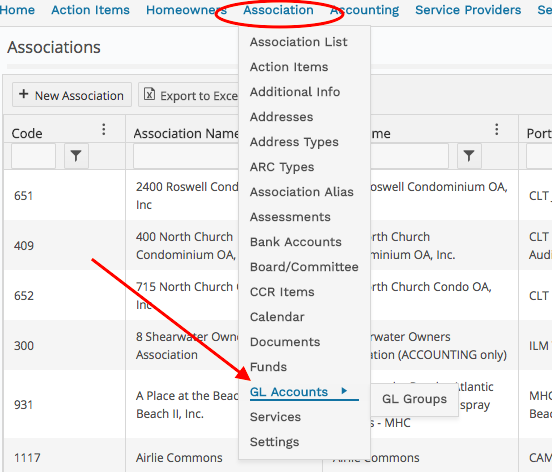 To set up beginning balance entries, hover your cursor over the Accounting drop down menu and choose the GL Entry screen. Note: do not choose the Recurring GL Entry screen.

From here, click on the New GL Entry button to open the GL Entry screen.

In the GL Entry pop up box, enter your GL Date, select your Fund and accounting method and the Description of your entry. You will often be using a report, such as the GL Trial Balance, make your entry. Use each line item from your GL Trail Balance and make sure that your entry balances before clicking the Update button. The Debits and Credits, displayed at the bottom of the screen, will match if your entry is in balance.
Importing Beginning Balances
In order to import a journal entry into Vantaca what you will need to do is use the GL Beginning Balance import. This import is usually used for beginning balances so there are some fields that you will need to edit within the system.
Note: This import could also be used as a regular GL Entry import if needed.
Fill out the required fields within the import. These are:

GLAccount
Description
Balance
AssocCode
The GLAccount and Description should match exactly what is in your systems chart of accounts.
Ensure that your debit items will be added as positive items and credit balance accounts as negative numbers.
Once you finish your journal entry you can use the Settings > Import screen to upload the import.
You will need to create a new import for each Fund type - i.e. Operating, Reserve, etc.

Once uploaded you can navigate to the Accounting > GL Entry screen and Edit the description from "Beginning Balance" to whatever you would like to see.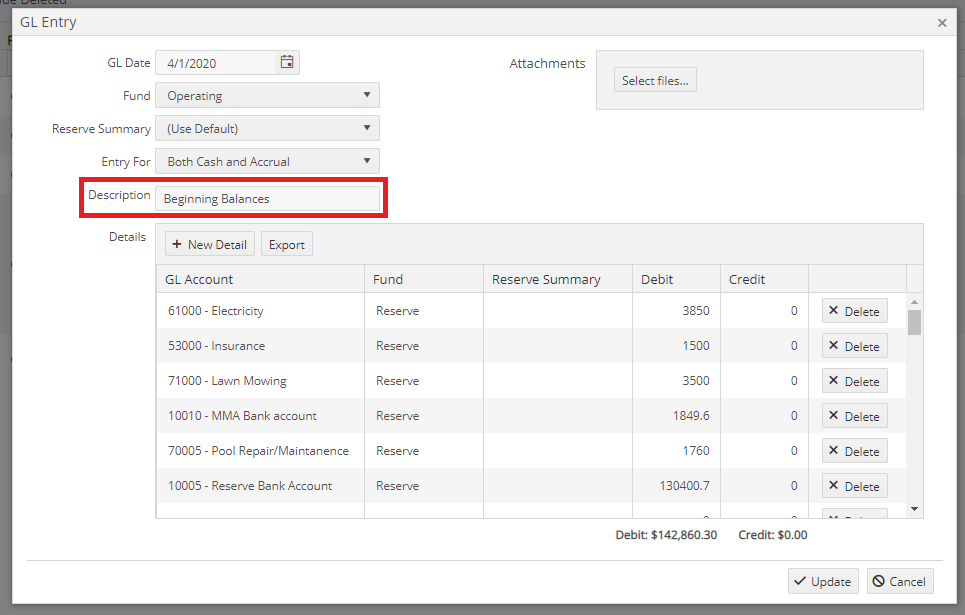 From there are can make any edits necessary or use any of the available GL Entry features like copy, reverse, or delete.