Vantaca is designed with efficiency in mind. Because of that, many of the features that--in another system--would need a manual Journal Entry to complete, are automated in Vantaca. Before we talk about writing a manual Journal Entry, let's begin with the times you don't have to.
*Click any of the Headers below for a link to the relevant article.*
When a check or invoice was paid from the wrong Fund, Bank Account, or GL, Vantaca's Reclass feature will automatically write the appropriate journal entry.
If an AR item comes back for whatever reason, processing the Bank Return Action Item will not only move the money (if needed), but also write the appropriate journal entries in the background.
Moving funds from one account to another is very simple with Vantaca, and automatically writes any journal entries.
*Note that if you are transferring for Reserve Contributions, the "Transfer Funds" will only write the Cash entries by default. In order to write the Equity/Expense journal entries, you will need to use the "Additional GL Entry" checkbox at the bottom of that window.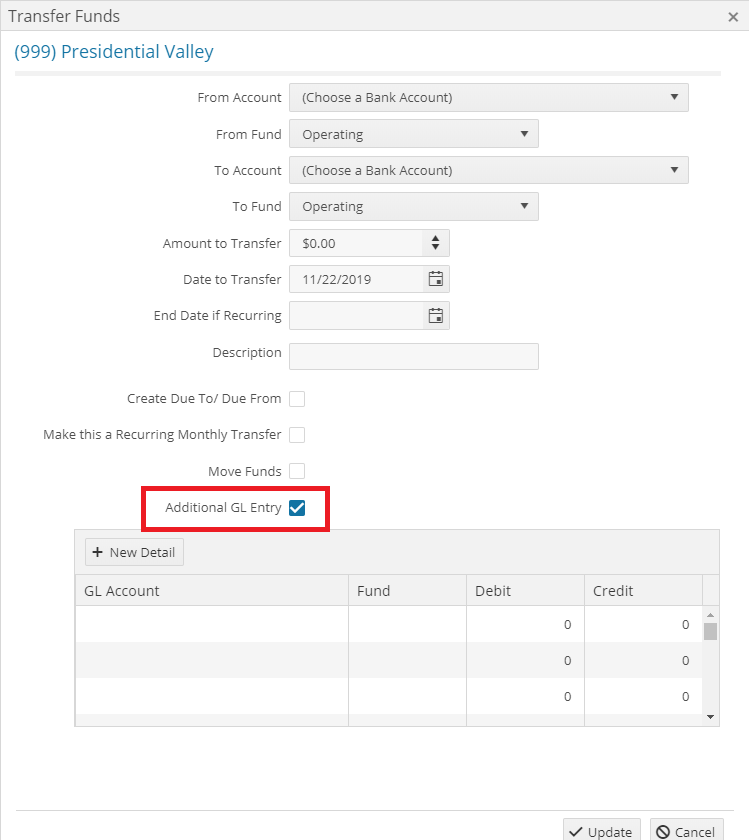 During Bank Reconciliation, if you have un-reconciled items on your Bank-side, and no items in the system that tie to them, you can do a Post Deposit or Post Expense to reconcile those items, create an invoice when necessary, and write the appropriate journal entries.
Interest
When recording bank interest, Vantaca will automatically post any earned interest from an Integrated Bank. For a non-integrated bank, simply click the Statement button on the Accounting > Reconciliation page. Enter the interest earned during the period, and click Update. This will add the interest to the Bank-side and GL-side and writes the appropriate journal entries.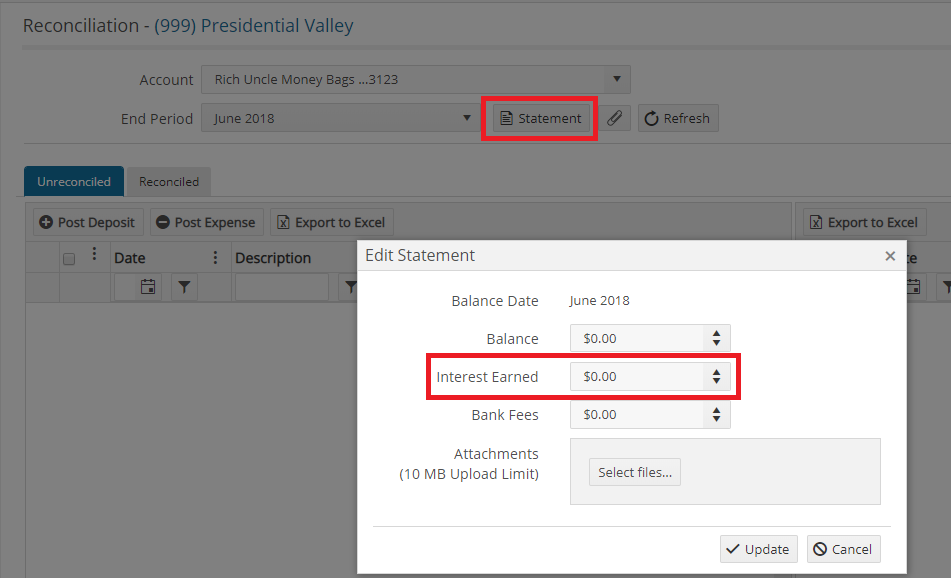 When Do You Need to Create a Manual Journal Entry?
While Vantaca works hard to automate the Journal Entry process, there are some times where you would still need to enter a Journal Entry manually. For the steps on HOW to create a Journal Entry, click here.
Below are some of the rare times when you'll need to write a manual journal entry within the Vantaca System:
Payroll (Such as for an on-site vendor) - Expensing the Wage Withholding

New Association Beginning Balances

Fund reclass: For a NON-invoice (From the Balance Sheet, for example)

For Fund Mapping

Accruing an Expense

Pre-paid expenses that are amortized

Fixed assets that depreciate