Summary: This article will detail the Print Queue in Vantaca and walk through the necessary steps required to print items. At the conclusion of the article, there is a link for an article about the Check Queue.
The print queue in Vantaca is a centralized location for all print jobs within your company.
When you click print on a statement, or letter, or any other document, they will all be sent to the main Print Queue, located under the Mailroom tab. From there, the print jobs will be categorized by action type and association. If there are a lot of print jobs within the queue, you can filter by Category, Date Created, or Description of the print job.
Remember: The front page will default to only show 10 items per page, so if you don't see your print job on the first page, filtering to find it might help you out.
Some companies will assign the responsibility of checking the print queue every day to one person within the company to make sure jobs don't sit in the queue for too long and get missed.
Once you've located the job(s) to be printed, click on the box next to the job and click Print at the top left of the screen, or the "Send to_______" button to send the print jobs to a third party. If you wish to print all jobs within the print queue, you may select the box in the column next to Category and it will select all jobs within the queue.
When printing, it is now possible to include Mailing Labels for each of these documents. Selecting a single or series of documents to print and selecting Include Mailing Labels when clicking Print will cause a .zip file to go to the jobs tab, instead of simply a single PDF.
But wait...there's more.
Once you've sent those jobs to be printed, you'll click on the "Jobs" tab at the top of the page and find your print jobs there.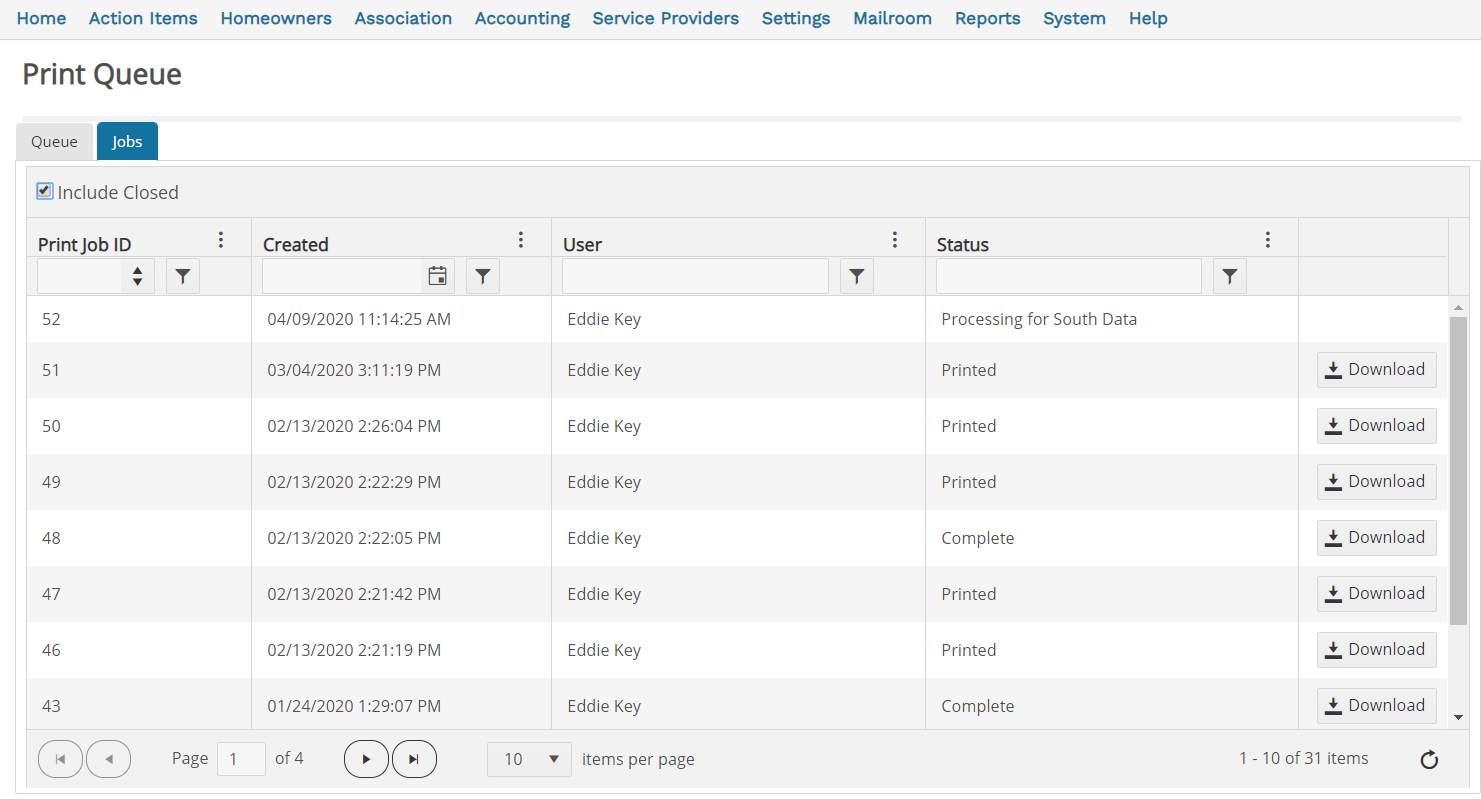 If the job was sent to a third party, in the status column it will read 'Sent to [third party]'. If the job was printed in-house, it will read 'Complete' and have a Download button to the right. Click that Download button to download the print job to your computer.
If you selected more than one job to be printed, they will all be in this one PDF document. You can then open up the PDF and print all jobs in house. Once the print jobs have been downloaded, refresh the page and the status will change to read 'Printed'.
A .zip file created when Including Mailing Labels will contain not only your print job but the Mailing labels for that print job. These labels will be in the correct order for your print job, from top to bottom, then the next column.
Congrats! You made it through the printing process in Vantaca!
There is also a check queue option, but that is just for checks being printed, either in-house, or through a third party. The checks are separated from the other print jobs because they need to be printed on specific check stock, whereas the other print jobs can be done on standard 8.5x11 size paper. To read more about the Check Queue, follow the link to this article: Check Queue