Vantaca IQ Feature
Association Bank Balances
Description:
The Association Bank Balances utility has been added to the Business IQ Dashboard which will display the bank balances of each association.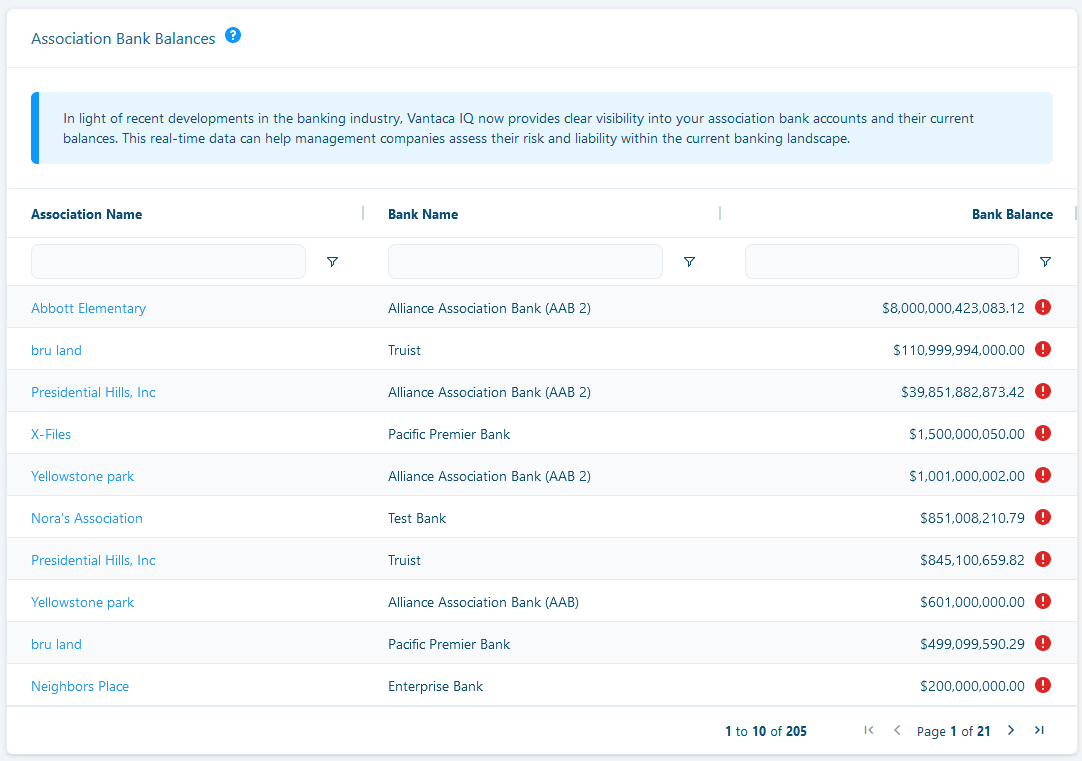 The utility will contain the following columns:

Association Name

Selecting the association name will redirect to that association's dashboard.

Bank Name
Bank Balance: value is the Total Balance per Bank, not by bank account.

The table sort by the Bank Balance column in descending order by default.

Balances that are greater than $250,000, which exceeds the FDIC insured limit, will display a red exclamation mark iconafter the balance total.

The accompanying tooltip will contain the following text:

The total balance by bank for each association within your business. This list is in descending order to show the bank accounts with the largest balance that could potentially be over the FDIC limit. If the balance is larger than $250,000, this is indicated by the exclamation-circle next to the balance.

Only users with the newly added Vantaca IQ Admin View permission will be able to view the utility.

Existing users with Global and System Admin permission will have the permission enabled by default.

Impact

:
This new utility on the Business IQ Dashboard will keep your financial concerns at bay with an easy to read overview of your association's bank accounts with the added benefit of being able to quickly identify which of those bank account balances have the potential to not be insured by the FDIC.