Vantaca Features
Modern Portal Contact Info
Description:
A dropdown for Mailing Address has been added to the Modern Portal > Contact Page:
The dropdown will let homeowners select the primary mailing address for their account.
A new address can be added by scrolling and selecting the (New Address) option at the bottom of the available selections.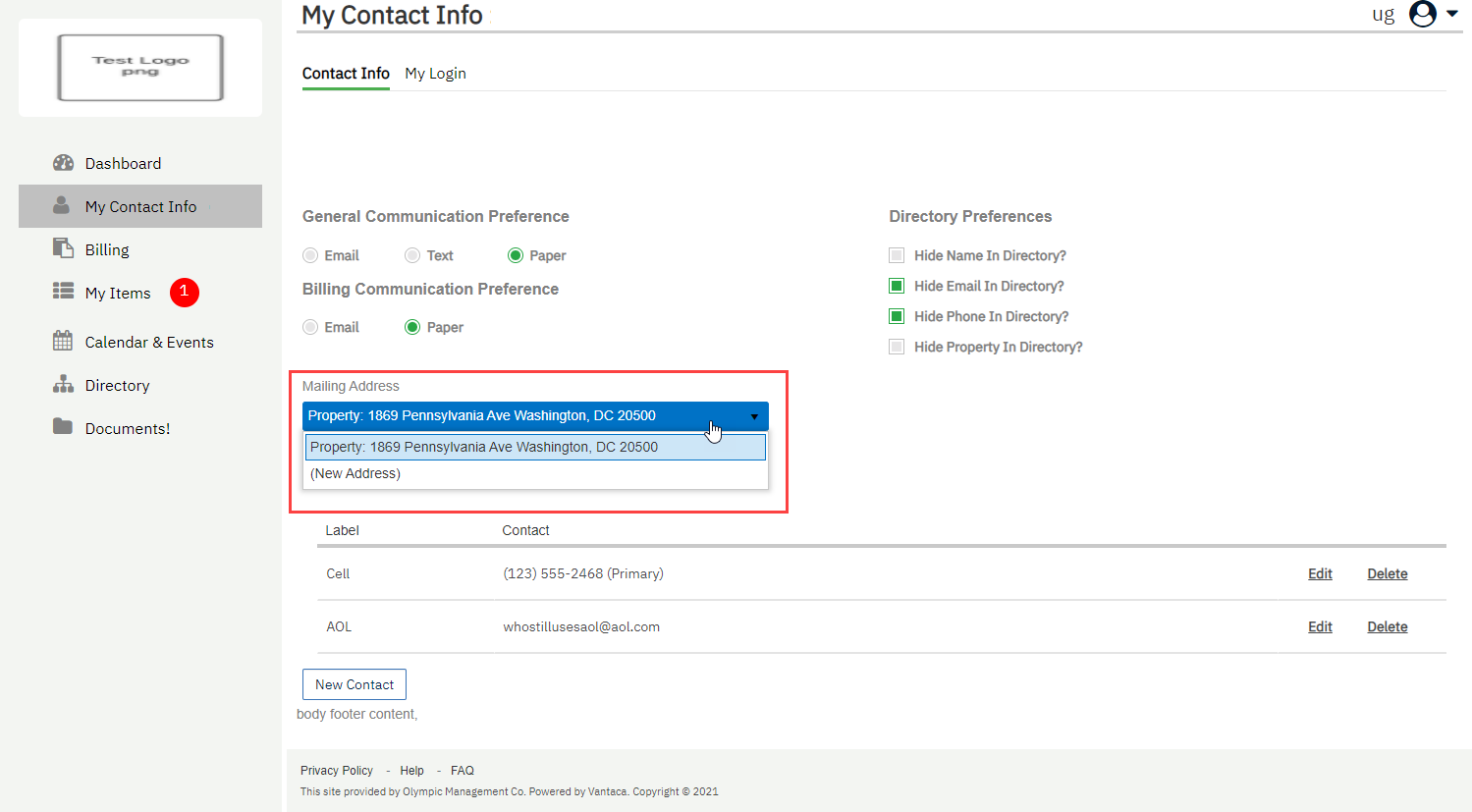 Impact:
This new dropdown menu was added to ensure consistency between the Class and Modern Portals. The dropdown also allows your homeowners a new way to add an additional mailing address and the ability to hide it from displaying in the directory if they want.
Vantaca Corrections
Homeowner Communication Preferences
Resolved the error involving the Generate Portal Logins process to unintentionally create a duplicate login and reset the homeowner's preference without a clear Activity Note.

The following related issues were also resolved when addressing this issue:

Updates and their accompanying notes being repeated for each of an owner's Portal Logins.

Updates setting the Email field for all users to the same value based on the first user.

The author of the note displaying as the portal user instead of the staff user.

Updates to an owner's Communication Preference not saving if no Portal Logins were tied to the owner.

Communication Preference Activity Note not logging changes to the Billing Communication Preference field.
New Charges
Resolved the error involving New Charges added using the +New Charge button to not populate a Created Date/Time on the Audit tab of the owner's ledger.

Homeowner Activity Notes
The error causing the author to not be displayed on a New Email Note after creating a new contact email in the Modern Portal has been resolved.

Coupon
Resolved the error causing the Bottom of First Page Coupon Location option to cut off the bottom page of an AP Invoice.