Vantaca Features
Action Item Report
The Action Item Report has been added as a button on the following Action Item screens:

Action Items > All Action Items
Action Items > My Action Items
Homeowner > Action Item
Service Provider > Action Items
Association > Action Items
Action Item > Select
Note: After clicking the +Action Item Report button, users will need to refresh the page in order to view the report.
Impact

:
This new button will provide a more efficient way of generating your Action Item Report now that you don't have to go through the previously required workaround
1099s
The +New Balance Record Validation will now exclude Not Live Associations when being added.
This addition will allow a Beginning Balance to be added to a Service Provider or Association that had a balance before the Association was changed to Not Live.
A Nelco State Filing checkbox has been added top the System > System Settings > AP Tab.

Note: The box will be unchecked by default.


An error message will be displayed if the Nelco State Filing checkbox has been enabled and the Association's Physical Address or Company does not have a State selected.


The checkbox will include the Association's state in the From1099NEC_StateNameOne and Form1099MISC_StateNameOne columns when generating the 1099 Export Data Additional Action.
Impact

:
These 1099 features allow greater functionality for your 1099 Processors and remove a few roadblocks and automate some tasks that previously needed manual intervention to accomplish.
Action Types/Steps Export
The Action Types/Steps Export button has been added to the Settings > Action Types/Steps screen.

The export will generate an Excel file with the following columns:

Category
Action Type
Admin Role
Default Followers
Order No.
Action Step
Closing Step
Send To
Reply To
Impact

:
You'll save a lot of time and effort now that you are able to quickly and easily audit your action items without having to submit a ticket to support to get this information!
Formatted Note and Email
Added the ability to adjust the Formatted Note and Email window size.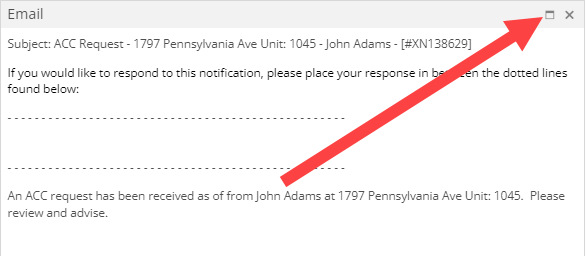 Impact

:
You can resize the window so that you're not having to view larger than normal emails or notes in a screen that's too small.
Vantaca Corrections
1099 Generation Log Report
Fixed an issue with the 1099 Generation Log Report displaying values rounded to the fourth decimal place.

GL Trial Balance Summary Report
Fixed an issue causing the GL Trial Balance Summary Report to display GL Accounts that had a zero balance.

Action Items
Fixed an issue with the original email merge tag being replaced with the username in an Action Item's email reply.

Fixed an issue involving Action Items with a previous owner date being stepped by the system and unintentionally creating correspondences with previous owners.

Invoice Notes
Fixed an issue preventing notes from being successfully added to Invoice Action Items.

Assessment Rules
Fixed an issue with Assessment Rule Description not copying over with the expected fields when creating a new Association.

Modern Portal
Fixed an issue specific to clients using both AAB's SSO/CC Redirect and SSB's Clickpay Redirect for different associations causing the redirect to default to AAB's SSO page.

Proposed Budget Spread Report
Fixed an issue with the Proposed Budget Spread Report pulling the Prior Budget Notes instead of the Proposed Budget Year Notes.

International Addresses
Fixed an issue preventing the Full Mailing Address column from displaying International Addresses correctly on the Homeowner > Homeowner List.

Fixed an issue with International Addresses not showing properly on checks.
Last Fiscal Period Validation
Fixed an issue causing the Closed Fiscal Period Validation to not catch an Expense being posted on a Bank Transaction set to a prior Fiscal Period.