Vantaca Features
Board Committee Type
Added the Board/Committee Type tab to the Association > Board/Committee page.

The +New Board/Committee Type button will allow users to create new Types.
The Board/Committee Type tab will display a list of all Types with the following actions available:

Edit
Delete

Attempting to delete a Board/Committee Type currently in use will prompt the following message to prevent additional errors:


Note: The following Types will not be able to be edited or deleted:

ARC Committee
Board Member
President
Secretary
Social Committee
Treasurer
Vice President

Impact

:
This new button will provide a more efficient way of generating your Action Item Report now that you don't have to go through the previously required workaround
New Reports
The following reports have been added: (Note: Each report will need to be enabled under Settings > Roles > Reports > Financials.
GL Trial Balance By Fund (Expense Only)

The report will show all expense GL Account activity by activity date including each debit and credit entry all broken out by fund.

AP Aging by Fund

The report will provide a summary of invoices by fund that have been expensed to a fund not yet paid.

Balance Sheet (w/ Reserve Report Group Breakout)

The report will provide a summary of assets, liabilities and equity GL Accounts broken down by Reserve Report Group along with a consolidated Operating Fund column.
Impact

:
These new reports will reduce the time and effort it'd take you to track down and breakout this vital information manually. The new reports have the same extensive functionality that our existing reports have to offer.
Homeowner Merge
The HOID column has been added to the Merge Homeowner grid.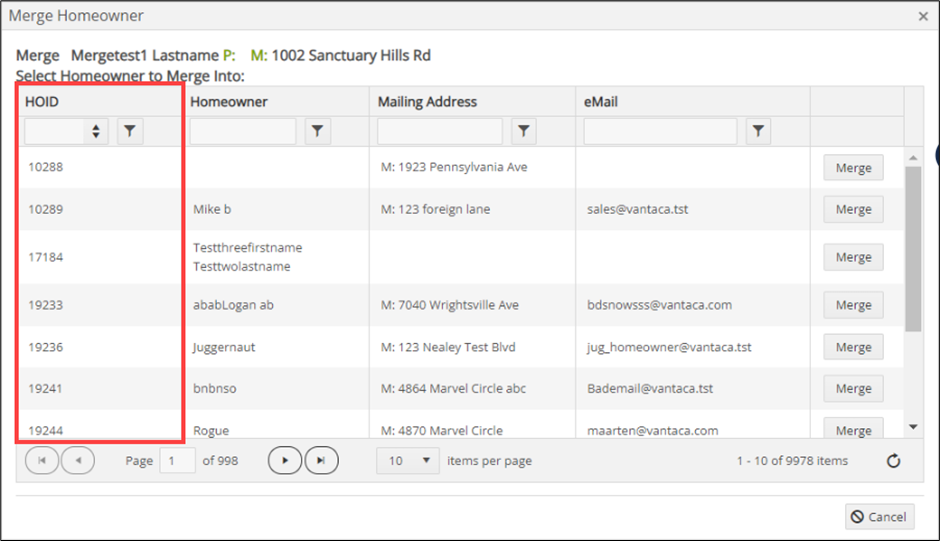 Impact

:
This additional column is a minor addition but is expected to have huge impact by reducing confusion around specific homeowner information during merges.
Vantaca Corrections
Homeowner Communication Export
Fixed an issue preventing the Homeowner Communication Export from ignoring its configured zip file limit.
Calendar Event
Fixed an issue causing the Calendar to ignore the settings configured on the Calendar Event Setup
Closed Invoices
Fixed an issue causing the Accounting > Pay Invoices > Future tab to not load anything after the first page.
Dashboard Action Items
Fixed an issue causing Dashboard Action Items to redirect the user to the wrong Action Type/Step.
Operating Cash Flow Report
Fixed an issue causing the Cash at beginning of period to pull incorrectly on the Operating Cash Flow Report.
Positive Pay Files
Fixed an issue causing CIT's Positive Pay files to not be sent with quoted identifiers.
Modern Portal
Fixed an issue causing the ClickPay button to not appear on the Modern Portal's Make a Payment screen.